Upcoming CME
---
4th Annual Southwestern Conference on Medicine Primary Care Update - Infectious Disease Threats in Primary Care
October 24, 2015
Join us on Saturday, October 24, 2015 for the 4th Annual Southwestern Conference on Medicine Primary Care Update - Infections Disease Threats in Primary Care. Click here to register online.

7:30 am - 8:00 am, Continental Breakfast with Exhibitors/Registration
8:00 am - 9:00 am, Sexually Transmitted Infections, Tirdad T. Zangeneh, DO, FACP
9:00 am - 10:00 am, International Infectious Disease Threats, Tirdad T. Zangeneh, DO, FACP
10:00 am - 11:00 am, Pediatric and Adolescent Infectious Disease Concerns, Sean Elliott, MD
11:00 am - 11:30 am, Lunch with Exhibitors
11:30 am - 12:30 pm, Infectious Diseases Update 2015: Antibiotic Resistance and You, Robert Orenstein, DO
12:30 pm - 1:30 pm, Coccidioidomycosis Update, John N. Galgiani, MD
1:30 pm - 2:30 pm, I Think This Is an Infectious Disease! Now What?, Francisco Garcia, MD, MPH
2:30 pm, Adjourn

Registration Rate: $120
Register online below or by using our printable registration form and email, fax or mail it back to us.
TOMF is accredited by the AOA to sponsor continuing medical education for physicians. The AOA designates this program for 6 AOA Category 1A Credits.

This activity has been planned and implemented in accordance with the Essential Areas and Policies of the Arizona Medical Association (ArMA) through the joint providership of THMEP and TOMF. THMEP is accredited by ArMA to provide continuing medical education for physicians.
THMEP designates this live activity for a maximum of 6 AMA PRA Category 1 CreditsTM. Physicians should only claim credit commensurate with the extent of their participation in the activity.
Program Description: The Southwestern Conference on Medicine Primary Care Update is an annual event designed to bridge practice gaps between primary care providers' current knowledge and practice performance and the ever evolving standards of care in modern medicine.

Program Learning Gap: Primary care providers are minimally exposed to the continual influx of new research data, recent studies and emerging disease states and lack expert mentoring to be able to improve their practice performance and patient outcomes. As noted by the CDC, infectious diseases are a serious threat that need to be addressed and examined. Primary examples of this are the recent 2014 Ebola and 2015 MERS outbreaks internationally and the 2014 measles outbreak domestically. Due to infectious diseases' ability to spread quickly and have potentially terminal effects, it is important for primary physicians to recognize the symptoms and characteristics of infectious diseases to effectively treat and diagnose patients.

Program Resources: The content of this educational activity was developed based on data collected from previous Conference attendees, previous outcomes measurement tools, the Planning Committee's perceptions of needed improvements in primary care diagnoses and treatments, national and local statistical information and the review of current trends and technology and medical literature.

Program Learning Objectives: Participants in this activity will be able to recognize, analyze and assess patients with high risk factors for infectious disease threats in primary care, identify and utilize treatment methods and interventions, review updated guidelines for diagnosis and treatment, discuss cases regarding new treatment options, technological advances and prevention techniques and appropriately evaluate patients for treatment and/or referral.

Good News! Previous AOA policy dictated that no more than 25 of the 50 required specialty credits per three year cycle may come from osteopathic foundation seminars like our Southwestern Conference on Medicine. This specialty credit cap has been removed for 2015 which is also the last year of the cycle!

Anticipated AOA Specialty Credits Include: 6 Family Medicine, 6 Internal Medicine.

To receive the most current information regarding our CME programs, click here to join our email list.

Be sure to "like" us on Facebook or "follow" us on Twitter!

---
25th Annual Southwestern Conference on Medicine
April 28, 2016 - May 1, 2016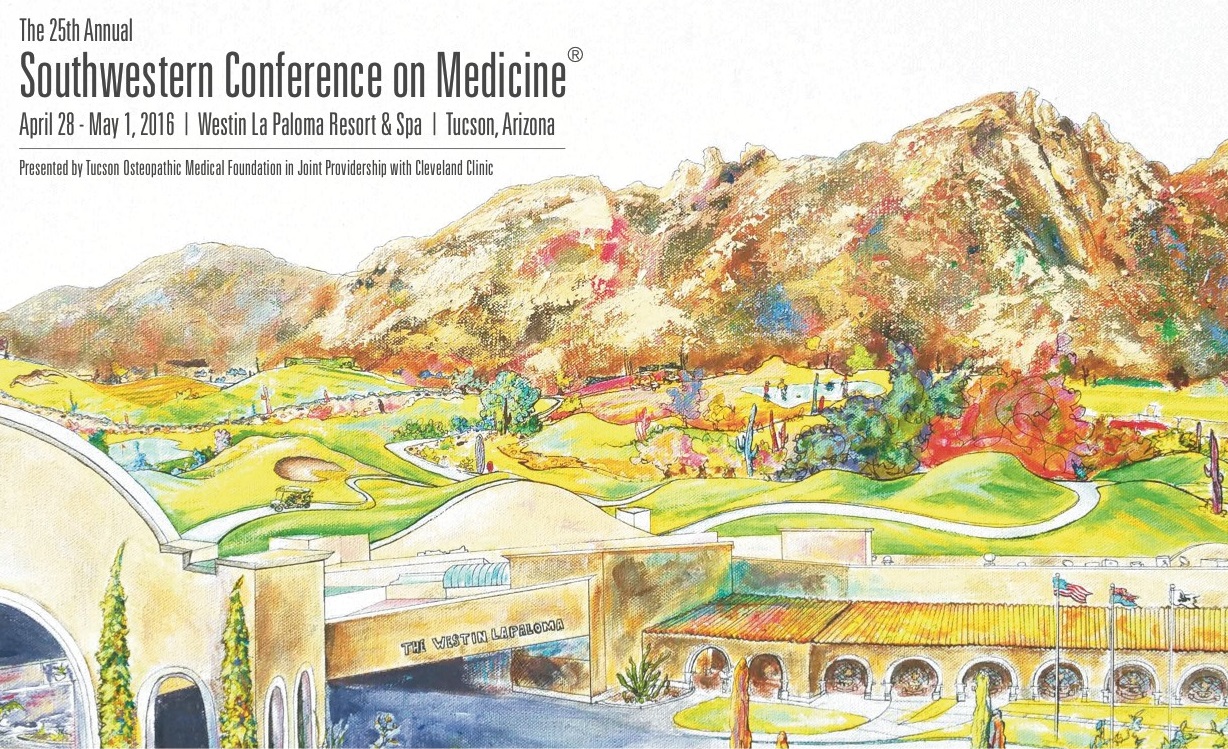 The 25th Annual Southwestern Conference on Medicine will take place Thursday, April 28 - Sunday, May 1, 2016 at the Westin La Paloma Resort and Spa Tucson! Save the date and please note that our location has changed for 2016! Our Silver Anniversary Celebration is proudly presented by Tucson Osteopathic Medical Foundation in joint providership with Cleveland Clinic.

Online registration is available now! Please click here to register at the early registration rate today! Early registration is available until March 25, 2016.
Active Physicians: $500
Semi-Retired, Retired: $400
NPs, PAs: $400
Residents, Fellows: $50
OMS: $0 (Please call 299-4545 to register.)

To receive the most current information regarding our CME programs, click here to join our email list.

Be sure to "like" us on Facebook or "follow" us on Twitter for updates on our public health outreach and CME offerings!