---
Alana Augur, OMS II at Midwestern University – AZCOM, Awarded $5,000 Founders' Scholarship
March 1, 2018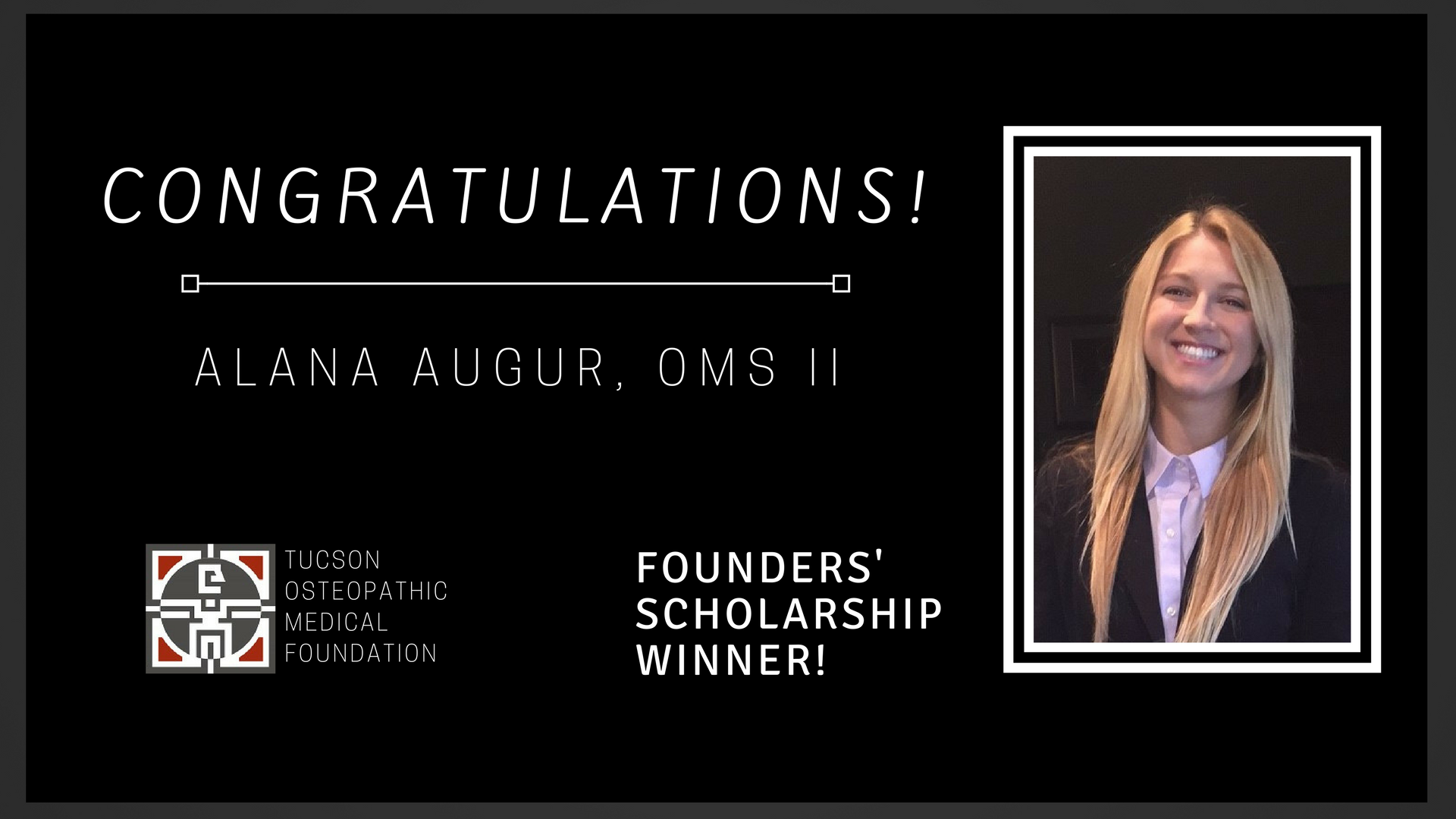 Alana Augur, from Scottsdale, graduated from The University of Arizona where she majored in biology and minored in mathematics. This OMS II at Midwestern University - AZCOM loves Arizona and all it has to offer including outdoor activities and urban culture. Her favorite thing to do in her limited free time is cooking. Augur has also had the exciting opportunity to work as a medical volunteer in Thailand and Cusco, Peru. Read on to learn more about Alana Augur's passion for medicine!

How did you discover you wanted a career in medicine?
From a very young age I loved science, especially learning about the human body. Medical school was a natural inclination. It wasn't until high school that I realized this career choice is a great way to combine my passions and feel fulfilled.
Who has been the most influential person in your life throughout your journey as a medical student?
If I'm being completely honest, my classmates have been extremely influential. My friends and I are continuously encouraging each other to study more and go for the "A" in a class. I cannot imagine experiencing all this without their help, support, and great company.
Which specialty do you plan to practice?
I want to be an oncologist in hopes of fostering deep personal connections with my patients and delving into an aspect of medicine that I find extremely interesting.
Tell us about a typical day in the life of a medical student.
I usually wake up around 7:00 am and start with coffee. My day is a mixture of classes and studying at the library with some classmates. I live on campus so I walk home around 5:00 or 6:00 pm and cook up something exciting. I typically study for a few more hours and then try to squeeze in some quality time with my boyfriend, watch Netflix, or get in a late night workout.
What advice would you give to a student considering medicine as a career?
I would tell them to find a mentor and to really put themselves out there in as many ways as possible. The worst anyone can ever say is no, but the possibilities are endless!
What is the most interesting thing you've discovered so far in your medical training?
I find cellular biology extremely impressive. It is almost overwhelming to think of all the intricacies happening within one cell at the same time, and then considering the scale in which it is all happening is truly mind blowing.
What excites you about becoming a physician?
After a few years of studying, I'm excited to get out there and interact more with people while simultaneously improving their well-being.
What led you to pursue osteopathic medicine as opposed to allopathic medicine?
I've always been interested in a more holistic version of life. I try to meditate, practice yoga, and use natural remedies and supplements. Osteopathic medicine felt like a natural fit for me.
What do you think the future of medicine looks like?
This is an interesting time for medicine and a lot is changing. It's hard to say how, but I hope health care becomes more technologically accessible for people who don't have the means or the time to be physically present somewhere.