---
Chelsi Redpath, OMS II at A.T. Still University-SOMA, Awarded $5,000 Founders' Scholarship
June 20, 2017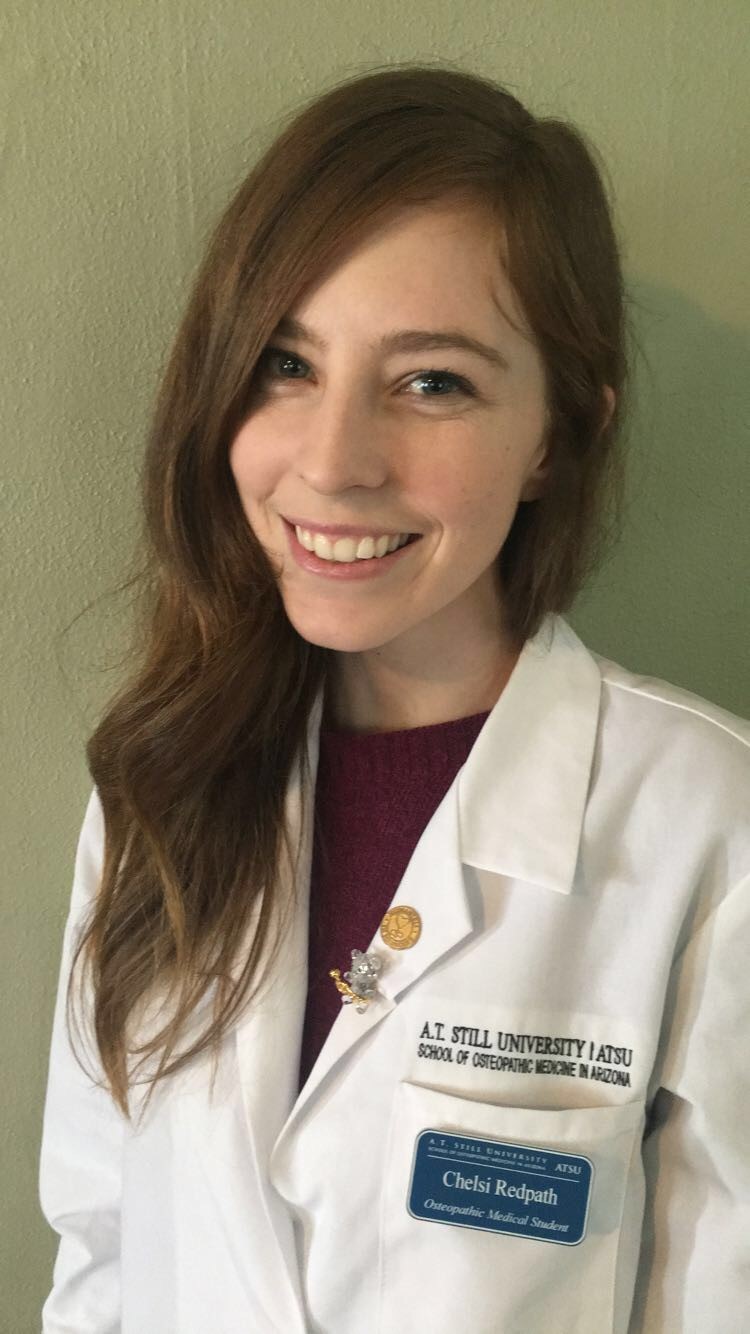 What is your hometown?
Phoenix, Arizona
What do you love about Arizona?
Although many would say Arizona is just too hot to enjoy, the sunny warm weather is what I love the most, not to mention the beautiful desert sunsets that come with it! I can do almost anything in this state (and at almost any time of the year), whether that be hiking through mountain trails, tubing down the Salt River, or snowboarding just a few hours north of my hometown.
Where did you get your bachelor's degree (and in what)?
I received a Bachelor's of Science in Health Sciences from the University of Arizona, Tucson, AZ. Bear Down!
How did you discover you wanted a career in medicine?

When I was about 12 years old, I accidentally hit my 8-year-old brother in the eye while swinging a golf club. The club was plastic, but the injury sent him straight to the emergency room. A doctor approached me there and told me how strong I was, because I could have made my brother blind if I had hit him at a slightly different angle. Watching the medical staff work with my brother and interacting with the doctor on a personal level was the seed that would grow to lead me to a future in medicine. Ever since this experience, I have been intrigued and excited to learn what a career in medicine was all about.
Which specialty do you plan to practice?
I am just about to start my third year of medicine which is when I begin my rotations, so I have not had the opportunity to experience the different specialties quite yet. As of right now, I really like the idea of family medicine because it has a lot of utility when it comes to assisting the underserved, and additionally I would have a wide variety of work and patients. However, I am keeping an open mind as I journey through third year - OBGYN, pediatrics, and internal medicine are also on my radar.
What's your favorite part of the day as a medical student?
It changes every year. Last year it was working in the cadaver lab because it was incredible to see the human body up close and personal. This year, it was shadowing a family medicine doctor once a week in an RV clinic which serves the homeless population. I finally got to apply what I have been learning in school to real life patients, and had a blast working in such a unique setting.
Other than medicine, what do you have a passion for?
I love my dogs (probably a little too much) and taking them to the dog park can be the highlight of my week. I also enjoy playing tennis and pickle ball when I get the chance, and Disneyland is my favorite place to be. On a more serious note, I love exploring and trying new things. The most exciting adventure I have ever taken was a humanitarian trip to Guangzhou, China where I helped build houses for a small village on a mountain. It was a daunting trip that I ventured on with complete strangers, but it made my heart full.
What advice would you give to a student considering medicine as a career?
If you don't love it, don't do it. Medicine is a great career with so many exciting and fun opportunities, but at the same time, it is a lot of work. It can be an emotionally exhausting ride, and if there is no passion behind your desire to become a physician, it is possible that you will drown. Passion keeps you motivated and afloat.
What is the most interesting thing you've discovered so far in your medical training?
Patients have incredible stories, each of them unique. Working with homeless patients has been very difficult as they come with a lot of different concerns and health problems, but this is also so rewarding at the same time. This has taught me that patient interaction is just as valuable to my continuing education as anything that I can learn through a book or a class.
What unique qualities do you have that will help you become a successful physician?
I hope that my open mind, open heart, and open ears will help me the most. Medicine is always changing, and patients will present with the same complaint but in completely different ways. I believe a good physician can adapt with the changing times as well as the diversity of medicine and patients.
What excites you about becoming a physician?
Feeling proud about what I call work, working with people of all different backgrounds, and discovering new things daily. I am especially excited about taking work with me to other countries for humanitarian aid.
What do you think the future of medicine looks like?

I would like to see a future where medicine is not about the number of patients being seen but about the quality of care each patient receives. Updating medicine and procedures is a good thing, but if we ever lose sight of the patient as a person and not just a body to fix, we lose sight of the foundation of care.