---
Ellis Kaufmann, OMS II at A.T. Still University-SOMA Awarded $7,500 Founders' Scholarship
February 24, 2021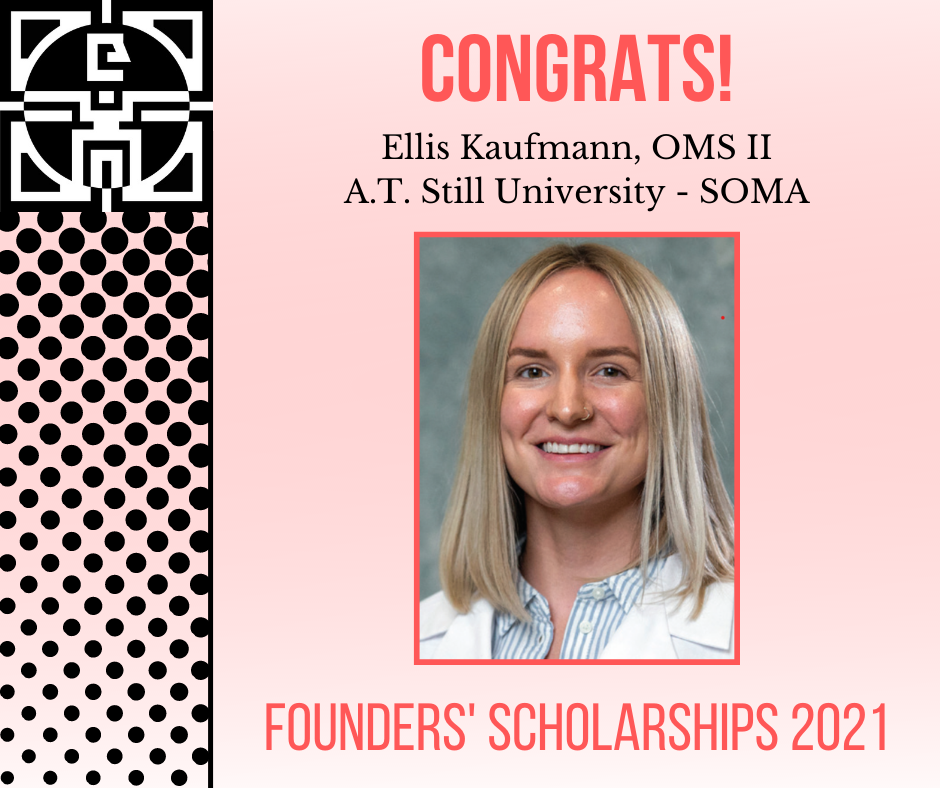 Elli Kaufmann is a 2nd year Osteopathic Medical Student at A.T Still University School of Osteopathic Medicine in Arizona. She graduated from the University of Nebraska Lincoln with a degree in Biochemistry (and Chemistry minor). During her time as an undergraduate, she worked in a research lab studying interactions between human albumin and common epileptic drugs. She was the winner of two poster competitions. She also worked as an undergraduate TA for a Biochemistry and Biology class. She currently works part-time as a tutor at her school, serving as a mentor for other students. She has a strong interest in advancing medical education and led a research project about the implementation of digital otoscopes in her school's curriculum. She has served as an advocate for DOs at DO Day on the Hill, and currently volunteers at St. Mary's hospital as a front desk COVID-19 screener. While not originally from Tucson, she has lived here for the past 5 years and hopes to practice in Tucson as a physician. Her interests include macramé, working out and learning medical Spanish.

Where do you consider home to be?
I consider Tucson to be my home. I was born here in 1994 but moved away when I was 2. I returned in 2015 after graduating and have considered it home ever since.
What do you love about the Southwest?
I love the sunsets and the beautiful desert terrain. I also love the community of people I have found upon moving here. Tucson is an incredibly special place.
What is your favorite thing to do in your (very limited!) free time?
I enjoy working out and learning medical Spanish. I also do macramé for hanging plants, which is using rope to make art that allows pots to hang from the ceiling.
How did you discover you wanted a career in medicine?
I spent time as a scribe to get to know the field. I also spent 3 years volunteering in the recovery room at St. Mary's and decided this was the profession I wanted to dedicate my life to.
Who has been the most influential person throughout your journey as a medical student?
I have had several amazing mentors along the way. One of my mentors was the doctor I scribed for, a DO named Dr. Pam Laubscher. I also credit Dr. Dixon, Dr. Sackett, Dr. Wagner, and Dr. Allgood for their contributions to my journey as a medical student.
Which specialty do you plan to practice?
I am undecided but am currently interested in OB/GYN, Psychiatry and Emergency Medicine.
What advice would you give to someone considering medicine as a career?
Trust the journey and believe in yourself. Take each day one at a time and never feel like you weren't meant to be here. Everyone has their own journey and timeline.
What is the most interesting thing you've discovered so far in your medical training?
The most interesting thing I have discovered so far would be the Community Health Center (CHC) model of care and how we can use this to take care of patients who are medically underserved. I respect the CHC model greatly for their work to serve the underserved in Tucson.
What excites you about becoming a physician?
I am most excited to positively impact the lives of my patients and implement holistic care in my field, wherever I end up. It has been interesting to see medicine shift into the realm of prevention instead of focusing on the treatment of disease.
What led you to pursue osteopathic medicine as opposed to allopathic medicine?
I pursued osteopathic medicine because I felt the mission of my school fit my goals of how I want to practice as a physician. I also have a passion of serving the medically underserved and feel osteopathic training places an emphasis on these patients.
What do you think the future of medicine looks like?
I believe the future of medicine is in holistic care and treating people as a whole. I am very excited to see the integration of wellness into medicine and how we can have positive outcomes by focusing on wellness.
How has COVID-19 impacted your training?
COVID has brought forth a lot of uncertainty and anxiety when it comes to training, whether that be the anxiety associated with potential exposures in clinic or anxiety associated with our future as physicians. COVID-19 has shown us that we are resilient. I am excited to be fully vaccinated and am looking forward to the positive impact COVID may have on public health funding in this country.