---
Elysia Tjong, OMS III at A.T. Still Univeristy - SOMA, Awarded $5,000 Founders' Scholarship
March 4, 2020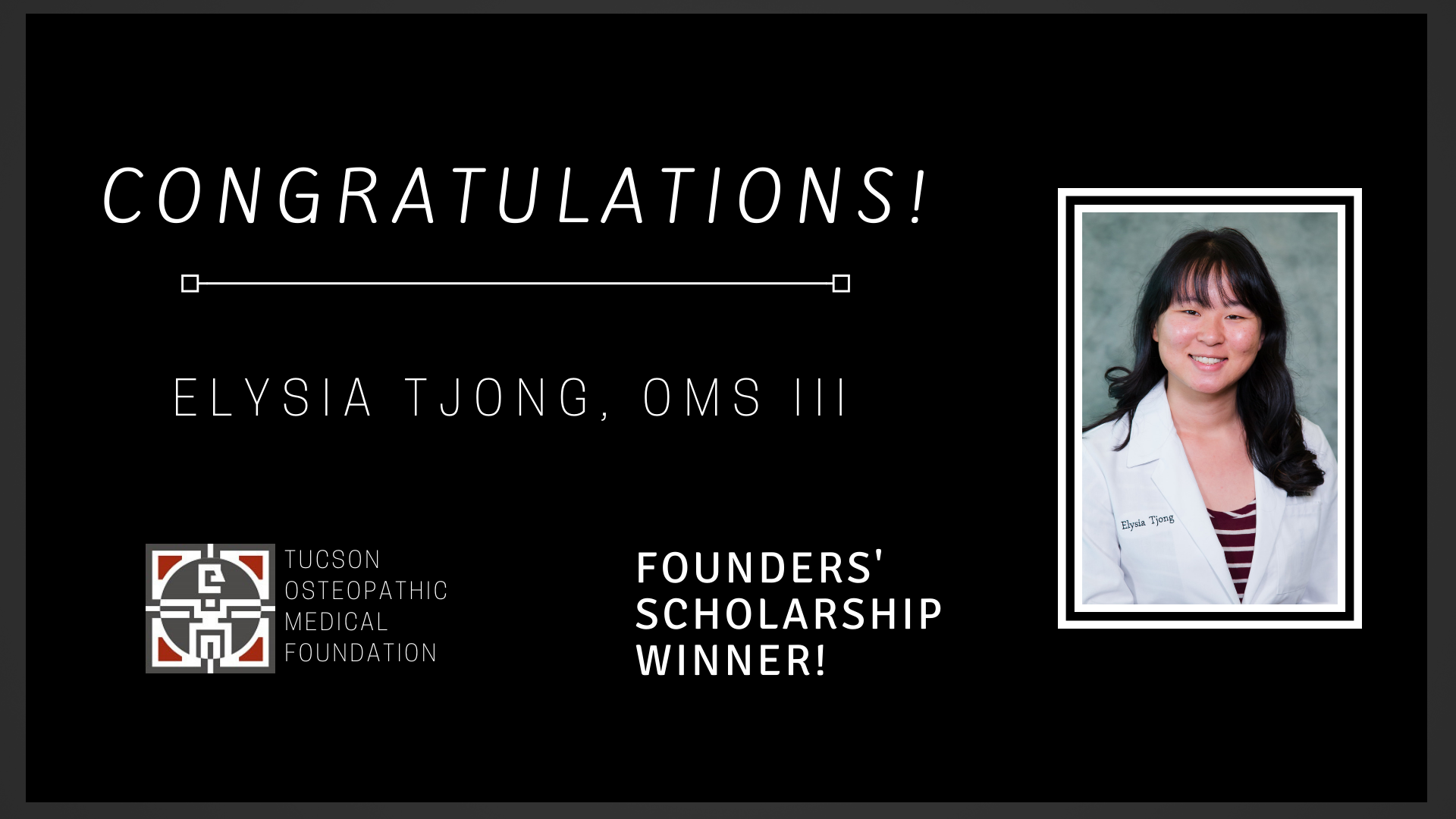 Elysia Tjong was born and raised in Reno, Nevada. She studied neuroscience at the University of Nevada, Reno. She was involved in lab research all four years, and presented three posters and an honors thesis in pharmacology. After graduation, she worked as a clinical research associate at Renown Institute for Neurosciences and also as a Scribe Supervisor at Renown Emergency Department. Since being at A.T. Still University - School of Osteopathic Medicine in Arizona, Elysia has won first place at the school's Interprofessional Cross-Campus Collaborative Case and was also a part of the Arizona Osteopathic Medical Association Student-Run Osteopathic Community Project Planning Committee, where their project, "Doctors that DO Wellness Pop-Up Exhibit Program" won the Arizona Public Health Association (AzPHA) Health Education Media Maker Yearly Award in 2018. She has continued her interest in research by serving as the Co-Principal Investigator in a research project, which was selected for poster presentation at the National Association of Community Health Centers Community Health Institute & EXPO in August 2019. Elysia has also published several case reports, and plans on being involved in research after she graduates.

Where do you consider home to be?
I consider Reno, Nevada to be home.

What do you love about Arizona?
I love the warm weather in Arizona, as well as the natural beauty of the desert with diverse landscapes. I also love the various hiking trails available.

What is your favorite thing to do in your (very limited!) free time?
My favorite thing to do when I have time is to exercise by either going to the gym or running. It helps reduce stress and I am always happier after a good workout.

How did you discover you wanted a career in medicine?
I discovered I wanted a career in medicine after accompanying my mother to numerous doctor visits for my younger brother with a learning disability who had difficulty conveying his symptoms. I was always amazed on how the doctor was able to treat him without my brother having to say a word. During my undergraduate years, I shadowed family physicians and worked as an Emergency Department Scribe, which solidified my desire to pursue a career in medicine.
Who has been the most influential person in your life throughout your journey as a medical student?
My parents have been the most influential people in my life and throughout my journey as a medical student. They instilled the importance of education and helping others, and they have been very supportive of me pursuing medical school even after I took some gap years after college. They have always supported me and are always there for me.
Which specialty do you plan to practice?
I am keeping an open mind, as I am learning more and more with every rotation. So far, I have developed interests in working within Primary Care and with under-served populations.
Tell us about a typical day in the life of a medical student.
During the first two years of medical school I would watch lectures in the morning, wrote out notes and read textbooks/watch supplementary material. At night, I would take a break either by working out or hanging out with friends. During my third year of school I would wake up early, go to either the clinic or hospital, come home to study/answer practice questions and take a break by working out, hanging out with friends or talking to my fiancé. I have really enjoyed my rotations because it allows me to have more hands-on experience. In addition, I can apply what I learned during my didactic years to patients in either the clinic or hospital.
What advice would you give to a student considering medicine as a career?
I would advise students to not rush in applying to medical school. I took a couple of gap years, where I worked at the Neurology Department at a local hospital. I learned so much from my time there. In addition, I was able to save up money for medical school. I was also able to travel and participated in running races as a hobby. Medicine is a commitment, but I think it's also important to gather life experiences before starting.
What is the most interesting thing you've discovered so far in your medical training?
The endocrine system and hormone feedback loops are very interesting to me. Feedback loops help regulate the secretion of hormones in the body, and it is fascinating how different hormones have a variety of effects on the body.
What excites you about becoming a physician?
Medicine is constantly changing and evolving, and there are always new medical technologies and innovations in health care. Working in a profession that allows me to continue learning for the rest of my career excites me. In addition, I really enjoy working and building rapport with patients.
What led you to pursue osteopathic medicine as opposed to allopathic medicine?
I pursued osteopathic medicine because it allowed me to learn more about osteopathic tenets that can be used when treating patients in the future. In addition, I want to be able to provide non-invasive treatments to my patients as an Osteopathic Physician.
What do you think the future of medicine looks like?
Because medicine is constantly evolving with more and more approaches to treatment, I hope and believe the future of medicine will allow for easier access to health care while reducing healthcare costs. With telemedicine being implemented in some clinics, other clinics and hospitals may adopt this approach so that patients with limited access can see providers from the comfort of their own homes.
Part of the TOMF mission is to provide high-quality Continuing Medical Education to medical professionals in Southern Arizona. We would like to know how you learn best so that we can provide effective and engaging CME to your generation of osteopathic physicians. Which of the following provides the best learning experience in your opinion?
I learn best through hands-on presentations and activities.