---
Jason Hirshberg, OMS III at Midwestern University - AZCOM, Awarded $2,500 Founders' Scholarship
March 25, 2019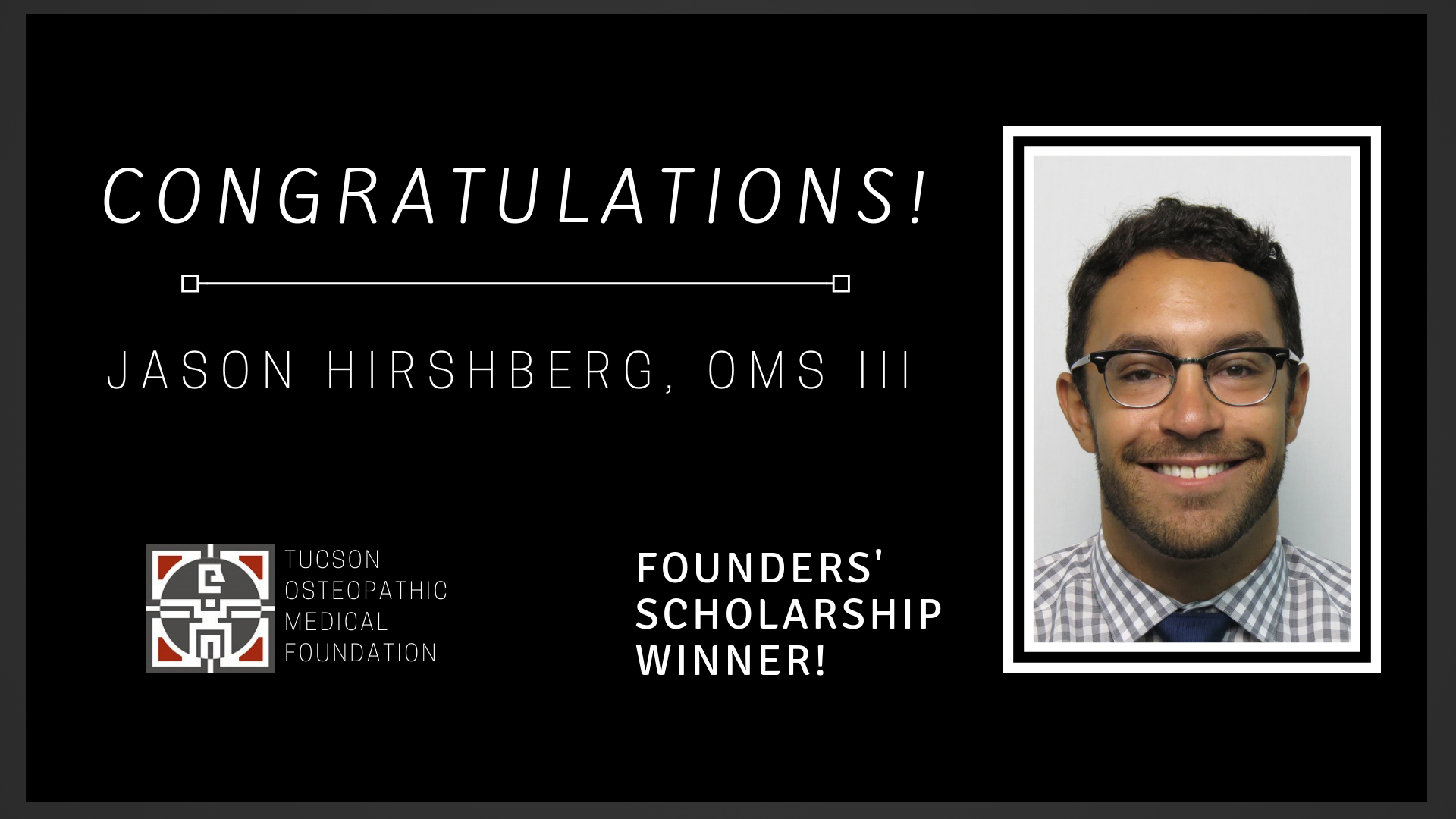 Jason grew up in Boulder, Colorado and studied Molecular Biology at the University of Colorado. After graduating in three years at the age of 20, he worked as a research assistant in a lab at Stanford that studied muscle stem cells. Before attending medical school, Jason earned his Master's degree in Reproductive and Cancer Biology from the Johns Hopkins School of Public Health. There, he graduated at the top of his class, was inducted into the Delta Omega honorary society, and published a paper on autoimmunity.
Last year, Jason earned Gold TOUCH recognition for accumulating over 100 hours of community service. He was inducted into the Sigma Sigma Phi osteopathic medicine honorary society in recognition of his leadership potential, academic performance, and passion for addressing disparities in healthcare. As a Paul Ambrose Scholar, Jason developed a tobacco education program for at-risk youth and presented his results at the Association for Prevention Teaching and Research Annual Meeting. Jason earned several Student Government scholarships that helped fund his presentations.

Jason was also selected from over 300 medical students to attend the Johns Hopkins Cancer in Underprivileged, Indigent, and Disadvantaged Translational Oncology Program (CUPID). In addition to advocating on Capitol Hill to ensure cancer survivors are not dropped from their insurance plans, his research on adenoviral genomes was published in the Journal of Clinical Oncology and in the Public Library of Science. As a member of multiple oncology organizations, Jason is driven to fight cancer in disproportionately affected communities.

Where do you consider home to be?
I was raised in Boulder, Colorado and have lived in Arizona for 3 years. Each has a special place in my heart.
What do you love about Arizona?
The sunsets are beautiful!
What is your favorite thing to do in your (very limited!) free time?
I enjoy running or swimming.
How did you discover you wanted a career in medicine?
I had a transformative cancer biology class in undergrad that led to an early interest in oncology.
Who has been the most influential person in your life throughout your journey as a medical student?
This is a challenging question. I'd have to say my father has still been the most influential, as I wouldn't have much success without his support. Although, I do get to meet amazing mentors every month now that I am on clinical rotations.
Which specialty do you plan to practice?
I am plan to practice Oncology.
Tell us about a typical day in the life of a medical student.
My third year has been quite different than in previous years. The first two years of medical school were a blur of constant studying, painstakingly writing and re-writing my notes, attending lectures, nervously practicing physical exams in under 10 minutes, and drinking plenty of coffee. Now, my day usually starts around 6am. I try to review charts if possible, and listen to NPR on the way to work. Physical exams are much more instinctive. Each day I learn something new. Depending on the rotation, I get home anywhere from 5-9pm and try to read review books or do practice questions for exams. My weekends are spent doing the same, with occasional exercise or laundry. I was also able to hike Mount Lemmon with my friends a few months back, which was really awesome! The third year of medical school is a big change because you are able to set your own deadlines, with the exception of shelf exams. I still love coffee though.
What advice would you give to a student considering medicine as a career?
My advice would be to pursue your interests and passions!
What is the most interesting thing you've discovered so far in your medical training?
I've learned how important communication is! Finding ways to convey medical information to a broad range of patients can be challenging. Thankfully, I have acquired a few tricks from some very talented residents and attendings.
What excites you about becoming a physician?
I am excited about joining a network of colleagues that share the same goal: healthier patients.
What led you to pursue osteopathic medicine as opposed to allopathic medicine?
The philosophy of considering the spiritual, emotional, and physical aspects of health was emphasized at schools I applied to.
What do you think the future of medicine looks like?
I think that the technological and scientific advancements will change the way patients are diagnosed and treated.