---
Jennifer Lee, OMS II at Midwestern University-AZCOM Awarded $7,500 Founders' Scholarship
February 24, 2021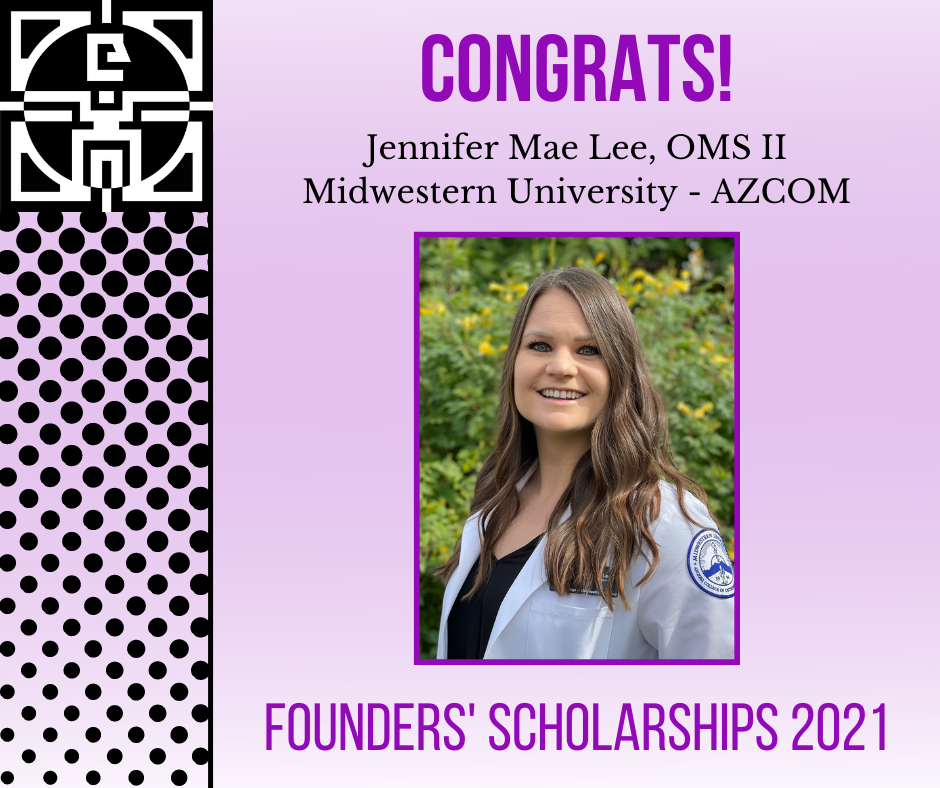 Jennifer Lee is an osteopathic medical student who is committed to her studies, demonstrates compassion and empathy, and has a desire to give back to the community. She attended Midwestern University for her master's degree, and finished in the top twenty-five percent of the class. Currently a second-year osteopathic medical student who finished in the top thirty-five percent of her class upon completion of first year, she has the desire to continue to improve her grades through the remainder of didactic. In addition to working hard academically, Jennifer is also a student leader in outreach efforts through her work as President of the Health Outreach through Medicine and Education (H.O.M.E.) organization where she works directly with Midwestern faculty and the student body to organize and run free weekly healthcare clinics at the homeless shelters in Phoenix, Arizona. Student Doctor Lee is also an AZCOM class of 2023 student representative on the Diversity and Inclusion Outreach Taskforce who works with Midwestern faculty, administration, and fellow students to ensure they are striving for equity for all medical students and future patients. She was honored to be selected as the National Liaison for the Emergency Medicine Board where she has been able to engage with medical schools across the country. These positions have allowed Jennifer to pursue her passion of advocating for underserved communities while also striving to embrace those qualities in her future practice as a physician.
Where do you consider home to be?
I consider my home to be Arizona. I grew up in Scottsdale, Arizona where I spent my childhood. I played basketball competitively in high school, which allowed me to visit many cities throughout the state. I then moved to Tucson, Arizona to complete my undergraduate degree at the University of Arizona (Bear Down!). I am currently in Glendale, Arizona completing my medical education at Midwestern University.
What do you love about the Southwest?
My favorite part about the Southwest is the sense of community it offers and the beautiful scenery it provides. Living in the Southwest, I have always felt like I belong and that the community is always striving to do better for one another. I also enjoy the awesome weather year-round and the impressive scenery. I love spending time outdoors, hiking and soaking in the beautiful sunsets any chance I get!
What is your favorite thing to do in your (very limited!) free time?
I am a sports fanatic so my favorite thing to do in my free time is play sports, attend games or watch them on television. Specifically, I like playing basketball and I am a huge football fan. My extended family lives in Wisconsin so I was born and raised a Green Bay Packers fan. Go Pack Go!
How did you discover you wanted a career in medicine?
I always knew I wanted to be a doctor because, unlike most kids, I actually enjoyed going to the doctor when I was sick. The medical environment I grew up in was always welcoming and I got to know the staff at my pediatrician's office well. I always knew that I wanted to work in a medical setting, so I pursued medicine in my undergraduate and graduate studies. Along my path to medical school, I worked as a scribe and an emergency medical technician (EMT). The experiences I had with patients and colleagues did nothing more than solidify my passion for the medical field. I knew that helping patients as a physician is where I ultimately wanted to be.
Who has been the most influential person throughout your journey as a medical student?
Michelle Mifflin, D.O. has truly been an inspiration throughout my time in medical school. Her desire to give back to local, underserved communities and passion to educate future physicians is inspiring and is something I hope to one day exude myself. She always says "no one is an island, be the bridge" and I believe that is a motto I will carry with me throughout my practice as a future physician.
Which specialty do you plan to practice?
I would like to specialize in Emergency Medicine in the future.

What advice would you give to someone considering medicine as a career?
The advice I would give to someone considering medicine as a career would be to never give up. My path to medicine took me longer than planned. It took a lot of hard work and many application cycles for me to eventually get into medical school. The medical field is competitive but if you try to better yourself every day and continue to have the passion for medicine through all the bumps in the road it will most definitely be worth it. Perseverance, hard work and determination can truly get you anywhere.
What is the most interesting thing you've discovered so far in your medical training?
The most interesting thing I have been involved with in medical school is my role as President of the Health Outreach through Medicine and Education organization. This organization helps the local homeless population by providing weekly, free healthcare clinics. I am inspired by these patients every week and have had the opportunity to work with many other disciplines in the healthcare field to provide care to this underserved population. Once COVID-19 happened, we had to adjust the entire organization to make it safe for all our volunteers and patients. During this time, we have still been able to provide help to the community by packing and delivering emergency food and supply kits to those in need. I hope to continue to work with this organization and to help provide care to underserved populations in my future career.

What excites you about becoming a physician?
Honestly, I am excited about everything! I can't wait to engage with patients on a daily basis and develop amazing patient-physician relationships with each interaction. I am also excited to work in a team-based system, which emergency medicine provides, and to have colleagues who are working toward the same goal of providing excellent patient care every day.
What led you to pursue osteopathic medicine as opposed to allopathic medicine?
Throughout my time as both a scribe and EMT, I worked with many different physicians. I gained a lot working with all providers, but I noticed that osteopathic physicians spent more time with each patient and were able to offer hands-on manipulation during the visit. Many of the osteopathic physicians I encountered ensured overall patient wellness along with treatment. This is what really made my decision of pursuing osteopathic medicine an easy one.
What do you think the future of medicine looks like?
The future of medicine will be exciting! The medical field is still working to overcome many challenges that the pandemic has brought this past year and I am very hopeful for where the future will lead us. This time has allowed the field of medicine to find new ways to evolve and grow. I have seen this innovation in my own education, and it is amazing how my classmates, faculty and administration at AZCOM have adapted so quickly to these unprecedented times. The determination we have shown and the knowledge we have gained over the past year will continue to allow medical advancements to be brought to fruition for years to come.
How has COVID-19 impacted your training?
COVID-19 has definitely changed our daily lives as medical students. Classes were moved online and clinical labs were reduced to a small number of students with additional personal protective equipment. The most drastic change that COVID-19 has brought is not being able to see our peers and faculty members every day. You don't realize how much you miss going to a coffee shop to study with peers until something like COVID-19 happens. Thankfully, our faculty and administration have done an outstanding job of continuing our clinical education and training while keeping everyone safe. I never would have thought I would be in medical school during a pandemic and, although it has been a difficult adjustment, I believe it will only strengthen us as life-long learners and future physicians.