---
Jennifer McKenna, OMS II at Midwestern University - AZCOM, Awarded $5,000 Founders' Scholarship
March 25, 2019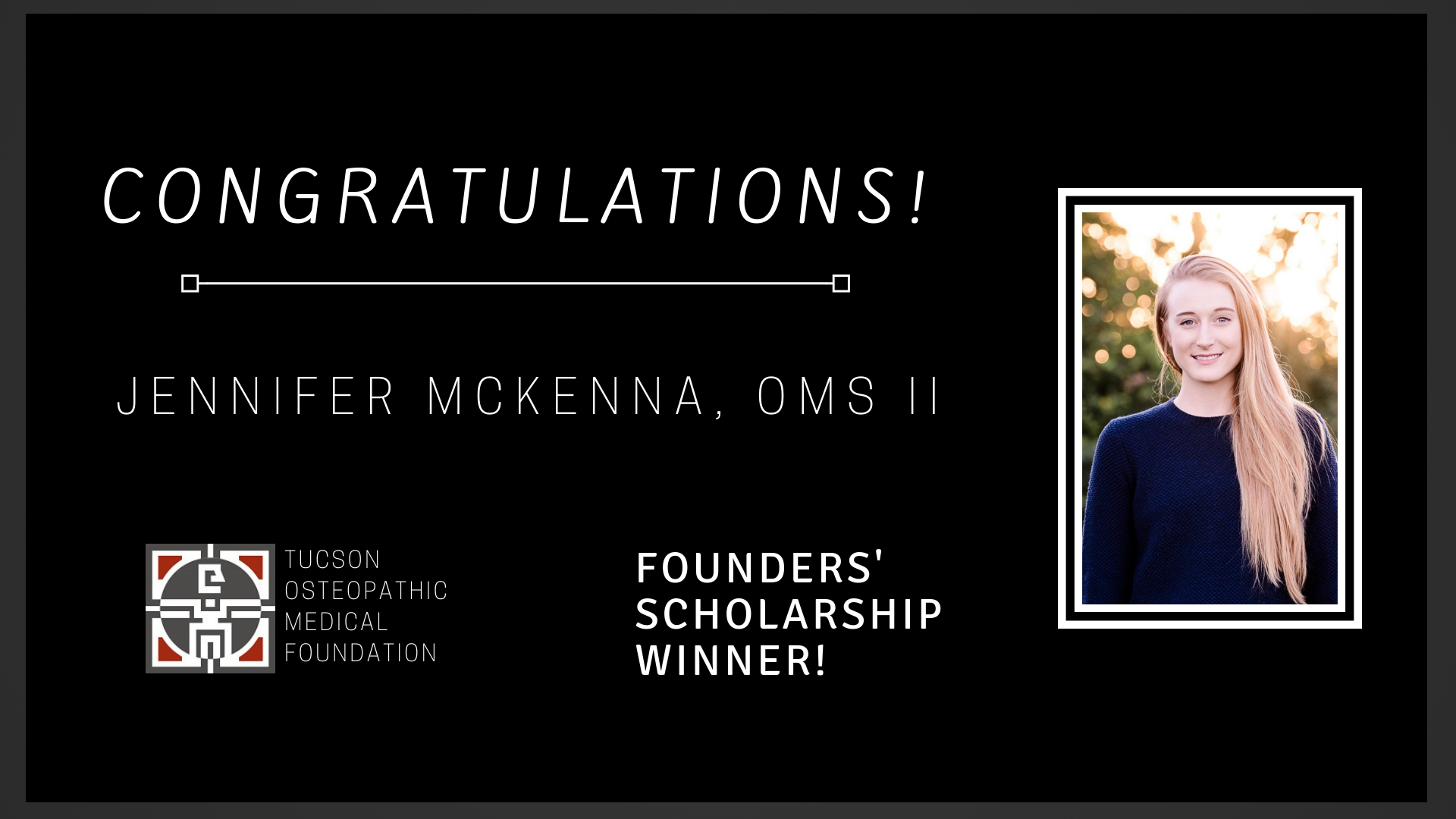 Jennifer was born and raised in Yuma, Arizona. Her family had moved there for agriculture. While both of her sisters continued the tradition of agriculture related careers, Jennifer was drawn to the medical field since her first anatomy class in high school. Without any physicians in the family, Jennifer took advantage of volunteering and shadowing opportunities in college to learn more about the career. The first doctor she shadowed was a family physician at a community health center; she was so inspired by his genuine attitude and the unique way he interacted with patients. Later she learned that he was a DO!
Since being at Midwestern, Jennifer has enjoyed playing flag football with a travel league, volunteering with organizations like Project C.U.R.E., and participating in a variety of clubs. However, the most rewarding experience came with a leadership opportunity. Jennifer has been working alongside a small cohort of Midwestern students and faculty to bring attention to primary care medicine. After attending two national conferences and undergoing a leadership training seminar, their hard work culminated in the form an elective course at AZCOM. This elective course offers an early clinical experience within the primary care setting at Midwestern's multispecialty clinic. The first quarter has recently concluded, and students were excited to be interacting with patients in the Medicare and Medicaid system. They learned about social determinants of health, figured out what areas were not being met for patients in high risk populations, and compiled local resources that might meet some of their specific needs.

Where do you consider home to be?
I consider Yuma, AZ my home.
What do you love about Arizona?
I love the diversity of environment; as an adult, I have been more appreciative of the desert's beauty, but when I need a change of scenery, it's a short drive to the mountains of Prescott and Flagstaff, places I treasured as a child. Of course, what really makes it home is family and friends. At Midwestern, I am a ten minute drive from my grandparents and a lot of extended family. They do their best to keep me grounded when school is most difficult. I realize that I'm biased, but Arizona has the best people, and being surrounded by Arizonans makes life great.
What is your favorite thing to do in your (very limited!) free time?
I play flag football for a women's city league and enjoy a variety of intramural sports through Midwestern. But my favorite thing to do is to go camping with my family near Dateland, AZ every October.
How did you discover you wanted a career in medicine?
It started as an affinity for science. After high school anatomy, I knew I wanted to study biology in college, and medicine seemed like a very rewarding way to study something I love and use it as a knowledge base to enhance the lives of others. I wanted to provide people with a skill that I considered valuable, fulfilling, and enjoyable. I feel that I will meet these goals as a physician.
Who has been the most influential person in your life throughout your journey as a medical student?
Since starting medical school, I have always kept my primary care physician in mind. When seeing simulated patients and patients at the CASS homeless clinic, I strive to emulate Dr. Shalini. She is able to make me feel comfortable and at ease even when discussing difficult situations. She has a warm smile that never expresses judgement. I want my future patients to have the confidence and comfort with me as I do with Dr. Shalini.
Which specialty do you plan to practice?
Since I have not yet begun rotations, it is difficult to rule out any specialty quite yet. However, before starting school, I often shadowed family practice physicians, and these are the doctors that solidified my desire to pursue medicine. I could easily see myself doing that for the rest of my life, so as of now, family practice is at the top of my radar.
Tell us about a typical day in the life of a medical student.
An average day during the second year of medical school is a lot of lecture time, screen time, and stressing over the impending Board exam. If I stay on task, I can get to the gym for an hour every day or play short intramural sports. There are a variety of interesting lunchtime lectures to choose from, organized by the clubs at Midwestern. We also have frequent workshops and patient simulation experiences, which are a great reminder of what we're working toward. I am very excited to transition to the clinical setting for rotations in third and fourth year, where I'll begin to apply all of the knowledge acquired in first and second year of school.
What advice would you give to a student considering medicine as a career?
I would tell them to shadow doctors; I don't have any doctors in my family, so I simply asked my primary care physician if I could spend a few days with her, and I had a blast! Medicine is a long and arduous journey, and if you have a passion for studying medical sciences in addition to finding joy in patient care, even the most mundane aspects of it, then it is worth all of the hard work. Finally, learn how to maintain a positive energy under stress, because the stress never ends, and the years go quickly. If you can find balance and happiness with a full course load and extracurricular activities, then you have what it takes to pursue any path.
What is the most interesting thing you've discovered so far in your medical training?
We study a lot of interesting things, but I was most shocked to learn about the extent to which social factors affect physical health outcomes. I was made aware of the strong correlation between socioeconomics and chronic systemic diseases such as diabetes and heart disease. This contributory relationship exists even in places with access to quality medical care, suggesting a more pervasive cause. While I'm unsure how to remedy this healthcare disparity, I'm excited to join a healthcare team and contribute to tackling this complicated and delicate issue.
What excites you about becoming a physician?
Medicine is a dynamic field that is constantly evolving. To best serve my future patients, I will have to continuously study new literature and techniques. I'm excited to keep learning for the rest of my career, and I know that I'll never feel stagnant or unchallenged.
What led you to pursue osteopathic medicine as opposed to allopathic medicine?
I believe that osteopathy offers the most comprehensive skillset in the setting of primary care. After shadowing a family medicine DO, I could sense the difference in care. His patients came in with their whole families, and they were so comfortable! It was very exciting to see him offer immediate musculoskeletal relief by utilizing manipulative medicine. Osteopathy will allow me to deliver the highest quality of care, and I am grateful to be enjoying an excellent osteopathic education at Midwestern.
What do you think the future of medicine looks like?
With the rise of chronic preventable diseases, in concurrence with the research confirming their relationship to nutrition and exercise, I foresee medicine shifting to a focus on prevention and lifestyle changes. It is true that physicians and patients are already aware of the importance, but with the rising percentage of those effected, it is only inevitable that the fear from seeing family and friends sufferings will be a catalyst for seemingly difficult changes.