---
Joshua Bellisario, OMS III at A.T. Still University-SOMA Awarded $5,000 Founders' Scholarship
February 24, 2021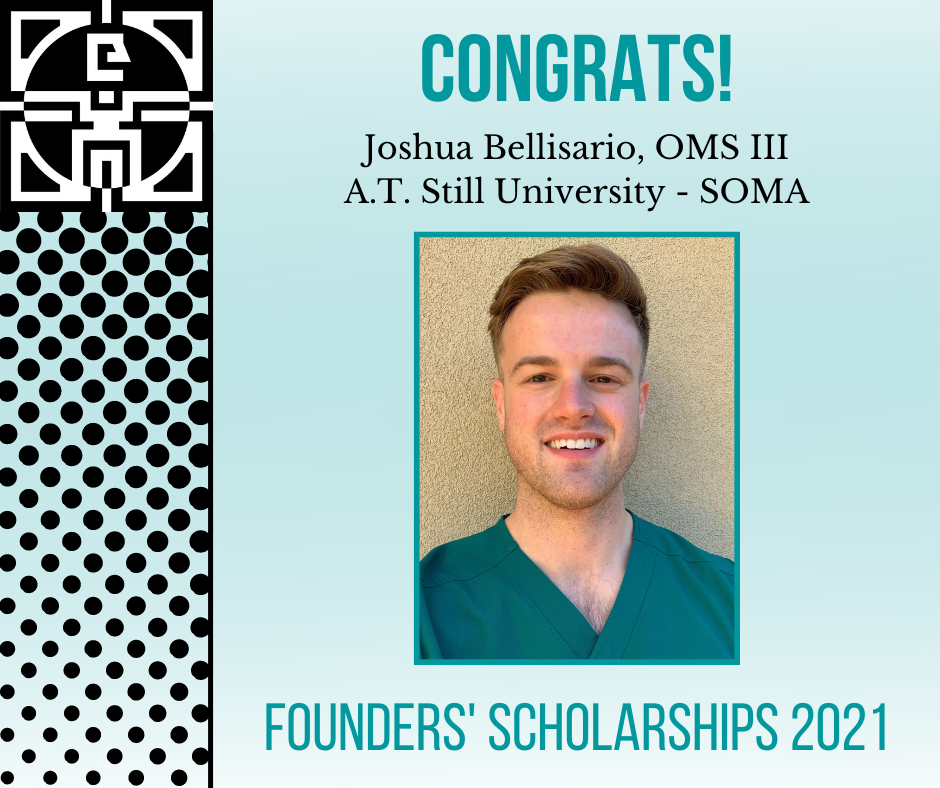 From the beginning of his medical education, Student Doctor Bellisario has been cultivating his professional profile through improving his academic performance, taking on leadership roles, and pursuing additional projects. Since beginning clinical rotations, he has consistently received excellent evaluations from preceptors, earning honors in both pediatrics and dermatology, and scoring honors on the pediatric COMAT examination.
Because of Joshua's interest in obstetrics and gynecology, he was able to do a case presentation on a high-risk obstetric patient in conjunction with University of Arizona- Phoenix at the Arizona Osteopathic Medical Association's annual convention in April 2020. He also attended the American College of Osteopathic Obstetricians and Gynecologists' Advances in Women's Health Fall 2020 conference.
This past September, Joshua helped to present his class's public health research project at the Community Health Institute's virtual convection in which they addressed barriers to colon cancer screening follow-up within the El Rio community. In the future, he hope to be involved with other projects regarding quality improvement with El Rio. Additionally, he is a student ambassador for ATSU-SOMA, acting as a liaison for prospective and incoming students, as well as a mentor to underclassmen in the school's "Big Sib/Little Sib" program.
Where do you consider home to be?
Cincinnati, Ohio
What do you love about the Southwest?
I love the geography! I love the constant sunshine, warmth, and dramatic landscape. I also like that I have the beach, the snow, and everything in between all within a few hours drive.
What is your favorite thing to do in your (very limited!) free time?
I really enjoy riding my bike around town. I live near downtown and U of A, so there are plenty of places I'm able to ride to. If I want to see more of nature, The Loop is near me as well.
How did you discover you wanted a career in medicine?
I first became interested in medicine during my freshman year of high school while my grandfather was in the hospital. I was impressed with the way physicians were able to take the information presented to them to devise a plan to best manage patient care. It seemed like the perfect combination of science and humanism.
Who has been the most influential person throughout your journey as a medical student?
I don't think any one person has specifically influenced me during my education. I am constantly inspired by my friends, patients, and attendings each day and I am grateful to have so many positive influences in my life as I work towards my DO degree.
Which specialty do you plan to practice?
OB/GYN
What advice would you give to someone considering medicine as a career?
It might sound daunting committing such a large portion of your life to school, but it's very important to remember that life goes on outside the classroom. Remember to take advantage of opportunities that come your way outside of medicine because if you keep delaying things until you finish your education, you may end up not having enough time to do all the things you want to do in life.
What is the most interesting thing you've discovered so far in your medical training?
I think one of the biggest surprises in medicine was discovering that the more you know, the more you feel like you don't know. I remember my first day as a second year in clinic thinking I had a pretty good idea of what questions to ask when obtaining a history, but when I came back for my rotations in third year after a full two years of didactic training, I felt even more lost because there were so many new facts I had learned that factored into my history taking.
What excites you about becoming a physician?
I am really looking forward to having my own patient panel. In obstetrics, it is such a rewarding experience to be a part of a family's journey throughout pregnancy and childbirth, and I am excited to be the primary provider who patients will not only rely on for care, but as someone who can share in the joy that this brings.
What led you to pursue osteopathic medicine as opposed to allopathic medicine?
I saw that having the opportunity to learn OMT in addition to the traditional medical school curriculum would give me another skill set to use in my practice that some of my colleagues may not have.
What do you think the future of medicine looks like?
I think that because of COVID-19, we are going to see a large increase in the number of telehealth visits. While some medical concerns require an in-person evaluation, many things such as medication or chronic disease follow up (i.e. diabetes management) have shown to be accomplished quite well via virtual appointments. I think this will also help increase access to care. Because I work mainly with an underserved population, transportation to and from appointments can be a problem for patients, and telehealth will help ensure continuity of care.
How has COVID-19 impacted your training?
I have been fortunate enough to have been able to do all of my rotations in-person or via telehealth with almost no online distance learning needed. Over the past year, it is astonishing to see how much Covid has become a regular part of our medical education. I have never seen patients in-person without a mask on myself, and someone's Covid status is practically stated as another vital sign. I am impressed with how healthcare professionals have been able to adapt and carry out patient care while dealing with the stress of a pandemic, but I am looking forward to the day that I can learn to practice medicine without the current restrictions Covid forces us to abide by.