---
Kareem Hamadani, OMS III at A.T. Still Univeristy - SOMA, Awarded $2,500 Founders' Scholarship
March 25, 2019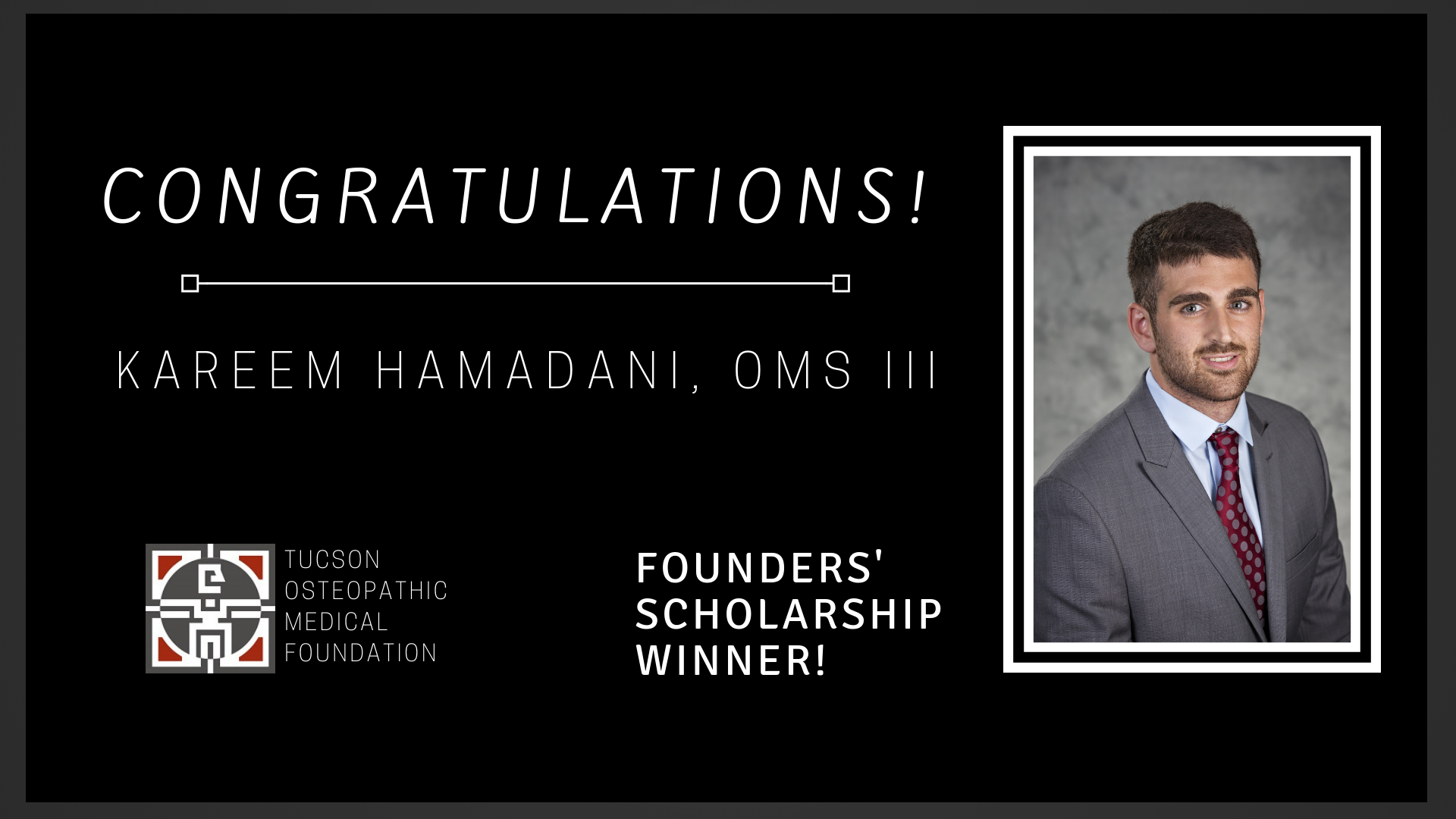 At UCLA, Kareem was able to accomplish a fair amount both on the individual level and as a member of a variety organizations. Kareem served as Vice President of Recruitment of UCLA's chapter of Phi Delta Epsilon, a pre-medical fraternity. His proudest accomplishment was serving a pivotal role in organizing the fraternity's first ever Anatomy Fashion Show, which helped raise the fraternity over $20,000 for Children's Hospital Los Angeles. As an undergraduate member of the Mobile Clinic Project, Kareem worked with UCLA medical students and attendings to provide healthcare services to downtrodden individuals in West Hollywood once a week, dispensing much needed supplies and medications, while also helping individuals find the resources they needed to get back on their feet. Under the direction of Dr. Emeran Mayer and Dr. Jennifer Labus in the Center for Neurobiology of Stress and Resilience, Kareem was able to serve in a variety of roles including but not limited to the roles of clinical research assistant, MRI technician, and data analyst. While demonstrating his versatility, Kareem was able to add six presentations and two publications to his research resume.
Kareem's focus thus far, as a medical student, has been on academics. Through his first two years, he has consistently achieved at a high level, performing in the top three of his class. Kareem has passed the first set of board examinations for both the USMLE and the COMLEX. Now in his third year, Kareem is aiming to shine during rotations and will continue to seek opportunities to further himself both academically and professionally.


Where do you consider home to be?
I consider Burbank, CA to be home.


What do you love about Arizona?
Arizona has a ton of natural beauty to offer. You can go from saguaro cacti to ponderosa pine in just a few hours. And regardless of where you are in Arizona, the sunsets are second to none.


What is your favorite thing to do in your (very limited!) free time?
Exploring the outdoors whenever I can, be it through hiking, camping, or hunting. In the fall, I spent my free weekends out in the desert hunting dove and quail. Hunting offers a different kind of solace and an opportunity to reconnect with nature. I relish every chance I get to be out in the peace and quiet off the beaten path.


How did you discover you wanted a career in medicine?
Science was always my favorite subject. When I started college, I was fascinated by the interplay between the physical brain and the functional mind. I pursued a degree in neuroscience, and although I enjoyed the subject matter, most of the career options were through academia. I wanted to pursue a more practical career in which I could make a difference in people's lives more directly. I decided to apply to medical school after spending my gap year in a multidisciplinary research lab using neuroimaging to investigate chronic pain. My time in the academic side of medicine taught me a lot of valuable lessons, but it also further reiterated my yearning for patient interaction and clinical medicine. I'm happy to be rotating through clinics and hospitals as a student now, and seeing the vast opportunities that medicine has to offer.


Who has been the most influential person in your life throughout your journey as a medical student?
My parents have been the most influential people in my life. From a young age, they instilled me the core values of working hard and treating others with respect and kindness. Following these principles provides a great foundation for success, regardless of your walk of life.


Which specialty do you plan to practice?
I think it's paramount to keep an open mind and to experience the different specialties firsthand before coming to a decision that has implications for the rest of your career. Your initial perception of a field may be completely different from its day to day reality. I came into medical school thinking I would pursue either psychiatry or sports medicine but going through my internal medicine and pediatrics rotations left me wanting to learn more. I'll come to a decision after I complete my third-year rotations in the next couple of months, just so that I give the fields that piqued my interest their due diligence.


Tell us about a typical day in the life of a medical student.
During didactic years: complete the day's lectures, take an exercise/mental health break, then read notes/practice flashcards/watch supplementary material. I then complete assignments, unwind, and off to sleep.
During clinical rotations: Wake up, go to clinic/hospital, return home, exercise/mental health break, do one hour of light studying to cement in the lessons learned from the cases you encountered, unwind, and then off to sleep.

The first two years are exhausting: you are expected to attend or watch a minimum of 7-8 lectures per day on your own, take notes, study, and take care of whatever other assignments you may have. I personally had a hard time sitting in front of a textbook or with PowerPoint slides; it's not my cup of tea, as I am a hands-on learner. In contrast, I have been loving every minute of my rotations through the clinics and the hospitals. You've been building a knowledge base for the first two years, and now you get to see it in practice. You refine that knowledge with the help of the doctors you work with, and it sticks with you because you're engaging with the disease process, manifested in your patients. Best of all, you get to take part in delivering someone's healthcare, and you are privileged with the opportunity to make a difference in that person's life.

What advice would you give to a student considering medicine as a career?
I would advise students to not rush into medicine. It's not just a career, it is a lifelong commitment. Medicine is amazing, but if I could go back in time, I would not have started my medical career as quickly as I did after finishing with my undergraduate degree. Take a few years, gather some life experience, and pursue a hobby. Medicine will always be there. Once you start, you are giving a 7-year commitment at a minimum between medical school and residency. Make sure you are mentally prepared for that kind of commitment after spending at least the past 17 years becoming educated.
What is the most interesting thing you've discovered so far in your medical training?
The art of medicine: collecting subjective and objective facts to paint a story and pose a solution. A patient's free recollection of their story is not always complete, and the physical examination may sometimes be only of limited utility. However, utilizing a thorough, systematic approach when collecting a patient's history can get you most of the information you need to exercise your clinical decision-making skills. It is a fascinating skill that only comes with experience after years of practice, and when a doctor has their inklings and can ask the right questions, it becomes a beautiful display of the history taking process.
What excites you about becoming a physician?
I am most excited for the ability to make a lasting impact on somebody's life. Physicians have the knowledge and the tools to help patients. This does not mean only fixing ailments or curing acute illness; it means being in the position to influence others. I want to make a difference in the lives of my patients, be it through routine counseling or a simple gesture of kindness.
What led you to pursue osteopathic medicine as opposed to allopathic medicine?
To be transparent: I applied to both allopathic and osteopathic programs because getting into medical school is harder than ever. The application process is as much an evaluation of the student by the program directors as it is of the program by the student. You need to pick programs that you think will be complementary to your learning style and provide you with the most tools to succeed. For me, there was a handful of DO programs that I felt I could thrive at, and there was another handful of MD program that could provide me with an immersive medical education as well.
What do you think the future of medicine looks like?
The future of medicine is bright. Technological advances are not only expanding what we know, but how we practice. I am confident that we will continuously find ways to utilize these advancements to make medicine more efficient and to provide a rising standard of healthcare each and every year.