---
Kathryn Johnson, OMS III at A.T. Still University - SOMA, Awarded $5,000 Founders' Scholarship
March 25, 2019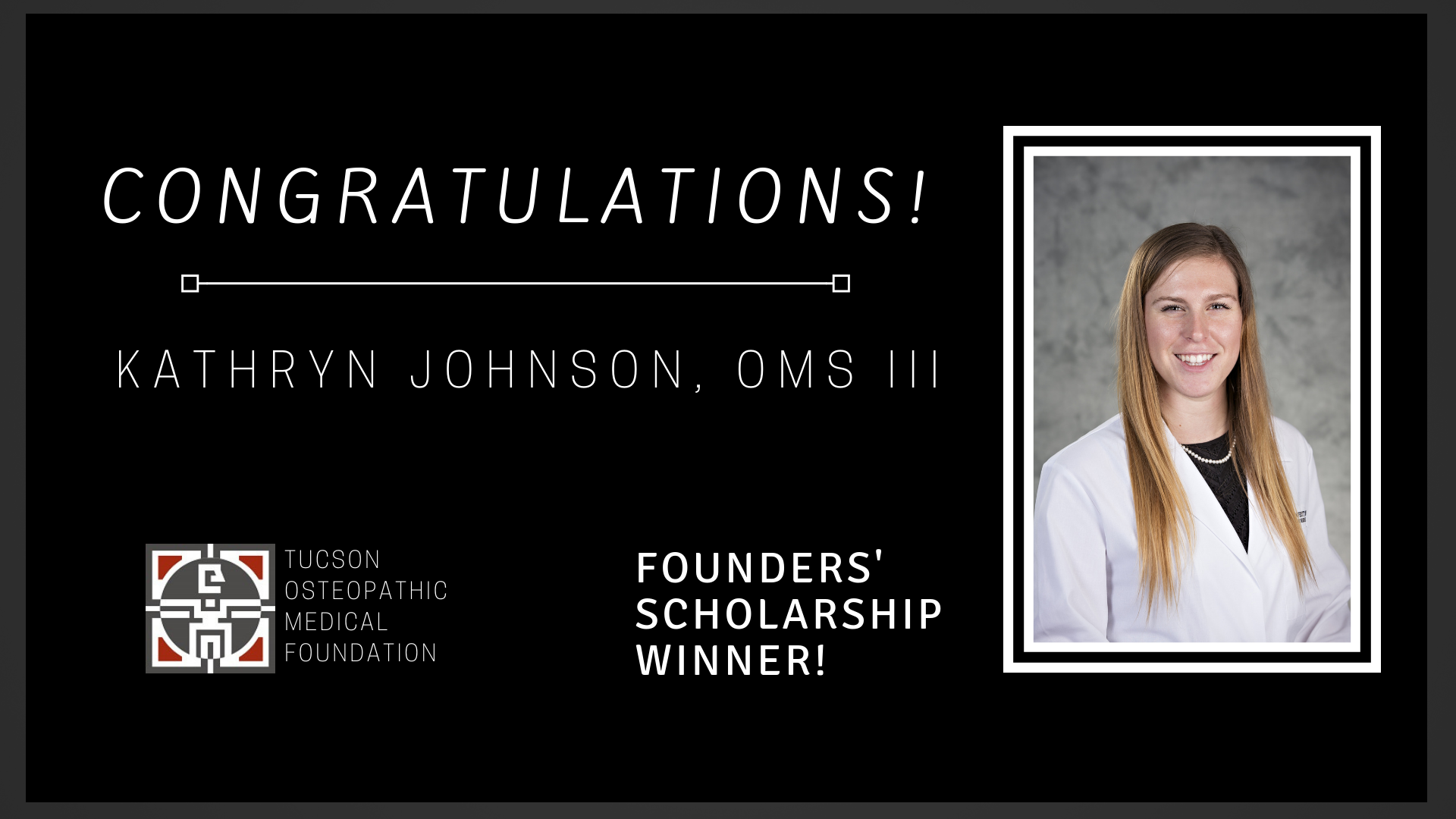 Kathryn Johnson was born in San Diego, California and raised in Prescott, Arizona. She attended the University of Arizona where she received a BA in Studio Art and BS in Biology with a biomedical concentration. She worked on two research projects at the University of Arizona Medical Center, one involving cardiothoracic surgery and the other major depressive disorder. After graduation, she was a scribe in an emergency department as well as a tissue procurement technician for LifeLegacy where she took tissues from cadavers for research.
In July 2016, Kathryn began medical school at A.T. Still University School of Osteopathic Medicine in Arizona. She has concurrently volunteered at Yavapai Regional Medical Center Emergency Room in Prescott, Arizona, as well as continued her interest in research through a community project entitled Opioid Excess - Educating Portland Citizens on the Importance of Proper Disposal of Excess Opioid Prescriptions. Other medical school activities include her role as president of the ATSU-SOMA chapter of the American Medical Student Association. She attended the AMSA National Conference in Washington DC where she lobbied for women's health rights. Kathryn is an editor/team member for the SOMA Pulse, the newsletter for SOMA. Her specialties of interest include emergency medicine and anesthesia, but she is keeping an open mind as she continues rotations in her third year of medical school.
Where do you consider home to be?
I consider Prescott, AZ to be home.
What do you love about Arizona?
The winters! I am currently on a rotation in Pendleton, OR and the snow is falling just outside my window. What I would give to be sitting next to a pool in AZ right now.
What is your favorite thing to do in your (very limited!) free time?
I like to get outside and see the world! Whether it is hiking around the lovely state or exploring another country, it is nice to see the beauty of the great outdoors.

How did you discover you wanted a career in medicine?
I first considered a career in medicine because it would combine my love of science and helping people. It wasn't until I had the opportunity to shadow a physician that I realized how perfectly medicine fits my personality and future goals.
Who has been the most influential person in your life throughout your journey as a medical student?
The most influential people in my life are my parents. They have always been incredibly supportive during my medical school journey.
Which specialty do you plan to practice?
My major interests lie in Emergency Medicine and Anesthesia, but I am still trying to figure it out. The third year of medical school is all about finding where you belong in medicine.
Tell us about a typical day in the life of a medical student.
The life of a third-year medical student in an OB/GYN rotation: Get up at 6am and rush to the Operating Room by 7am. Scrub into a surgery and hopefully get to hold the laparoscopic camera and assist with the surgery. Attempt to answer the questions the attending physician asks you but only get a couple correct. Then you take a short break for lunch, then you see patients with your preceptor in the clinic in the afternoon. Make some funny jokes, build rapport with patients, and remember why you went to medical school in the first place. Get done seeing patients around 6pm and review all of the material you were asked but didn't know the answers to that evening. It is a life filled with discovering who I am going to be as a future physician.
What advice would you give to a student considering medicine as a career?
I would tell students to shadow as many different physicians as you can before starting medical school! It will give you an idea of which specialty you like and to see if medicine is the right field for you. You absolutely don't need to know what specialty you want to go into before medical school, but shadowing can give you a good foundation to build from.
What is the most interesting thing you've discovered so far in your medical training?
There are so many interesting things about human anatomy and physiology, but I think one of the most fascinating aspect is the ability of the human body has to adapt to whatever stress it encounters, whether that be mechanical, physiological, or pathological.
What excites you about becoming a physician?
I think the most exciting part about becoming a physician is making a difference in the lives of my patients. Medicine allows me to do that through many different ways, including showing compassion to others, healing, and contributing to scientific knowledge and understanding.
What led you to pursue osteopathic medicine as opposed to allopathic medicine?
The principles and practices of osteopathic medicine align closely with my own personal goals and ideals. I also love seeing osteopathic manipulation in action and the positive impact it has on so many patients.
What do you think the future of medicine looks like?
That is hard to say. The future of medicine is definitely bright, but I believe it is the responsibility of physicians to advocate for their patients and change medicine so that positive future becomes a reality.