---
Mei Song-Lin Goh, OMS III at Midwestern University – AZCOM, Awarded $2,500 Founders' Scholarship
February 28, 2018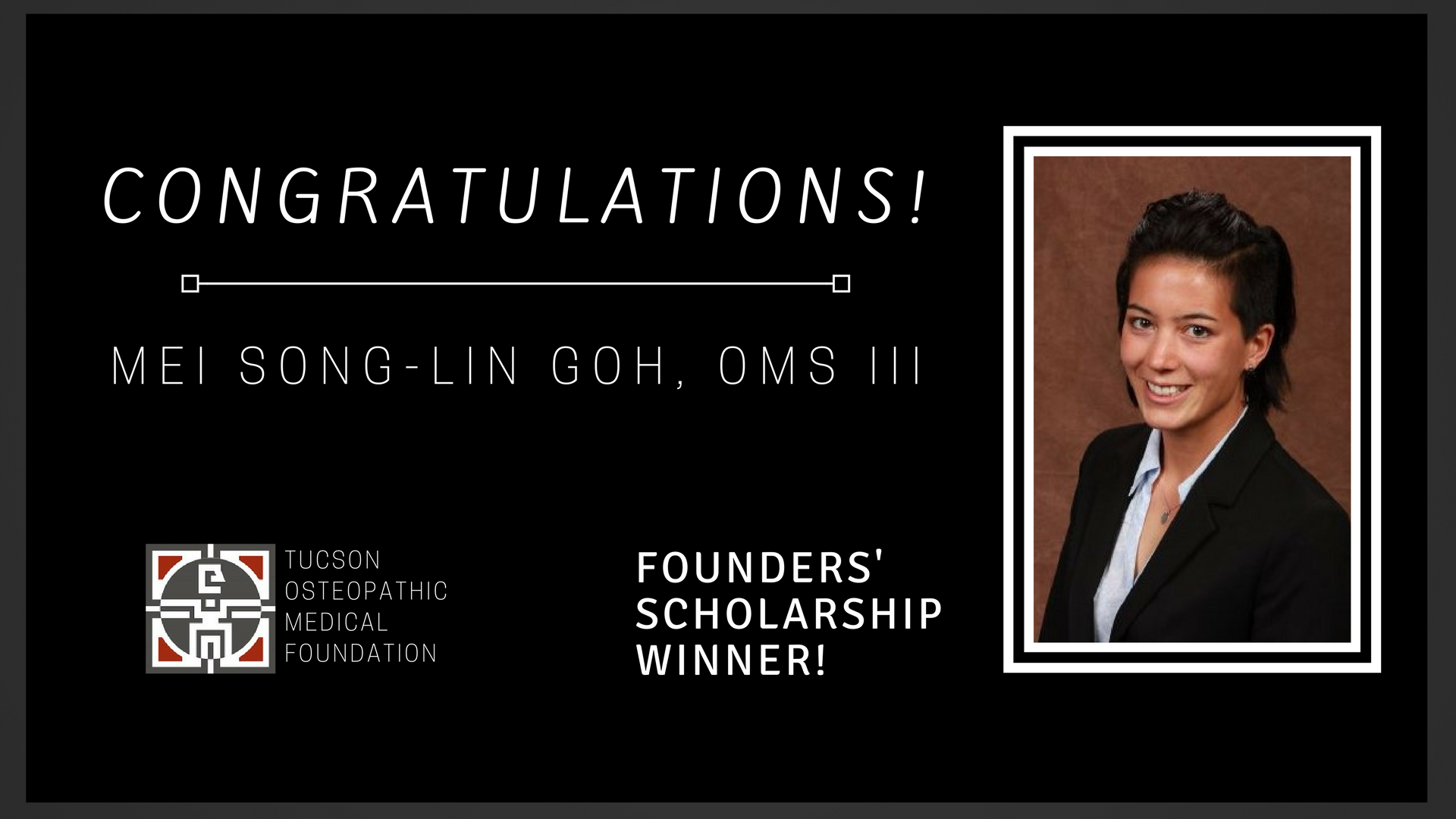 Growing up in Seattle, Washington around people and a culture that was very embracing of integrative medicine and alternative medicines, osteopathic medicine seemed like the perfect fit for Mei Song-Lin Goh. She is currently an OMS III at Midwestern University - AZCOM. Of particular interest to Goh is, "the diversity of ways to practice medicine, even within a single discipline." Read on to learn more about Mei Goh's advice to students considering the medical field.
What is your favorite thing to do in your (very limited!) free time?
My favorite thing to do in my free time is to explore new places. Lately, I've been discovering all of the fantastic places to rock climb near Tucson.
How did you discover you wanted a career in medicine?
In middle school, I learned about what anesthesiologists do. I thought that it was the coolest, most magical job that someone could be paid to do. Putting someone to sleep so that they could undergo a life-changing procedure, then wake them up again - unbelievable! That revelation was what led me to consider a career in medicine.
Which specialty do you plan to practice?
Anesthesiology with OMT.
Tell us about a typical day in the life of a medical student.
I think it really depends on what year you're in, but essentially the days consist of waking up, studying, going to class or rotation, going to the gym, studying some more, and then going to sleep. Luckily there's also some great adventures thrown in there occasionally.
What advice would you give to a student considering medicine as a career?
Figure out what most excites you about medicine and reflect on the small wins because those will be what get you through those tough grueling moments of training. Apply early. Be persistent. Be awesome. And most of all, treat school like a marathon, not a sprint i.e. take care of yourself so that you can perform at your best.
What excites you about becoming a physician?
What's driving me right now is learning skills that can help take people's pain away. Pain diminishes patients' health in so many aspects and to have the possibility to make even a small difference in their physical experience of the world is an exciting prospect.
What do you think the future of medicine looks like?
I think the future of medicine will continue the increasing emphasis on preventive health and the expansion of team-based patient care. I see the osteopathic philosophy fitting this future perfectly as more people desire a more holistic and humanistic approach to their care. I also expect technology to be further integrated in order to make delivery of care more efficient and effective.