---
Michael Ament, OMS II at A.T. Still University - SOMA, Awarded $5,000 Founders' Scholarship
March 25, 2019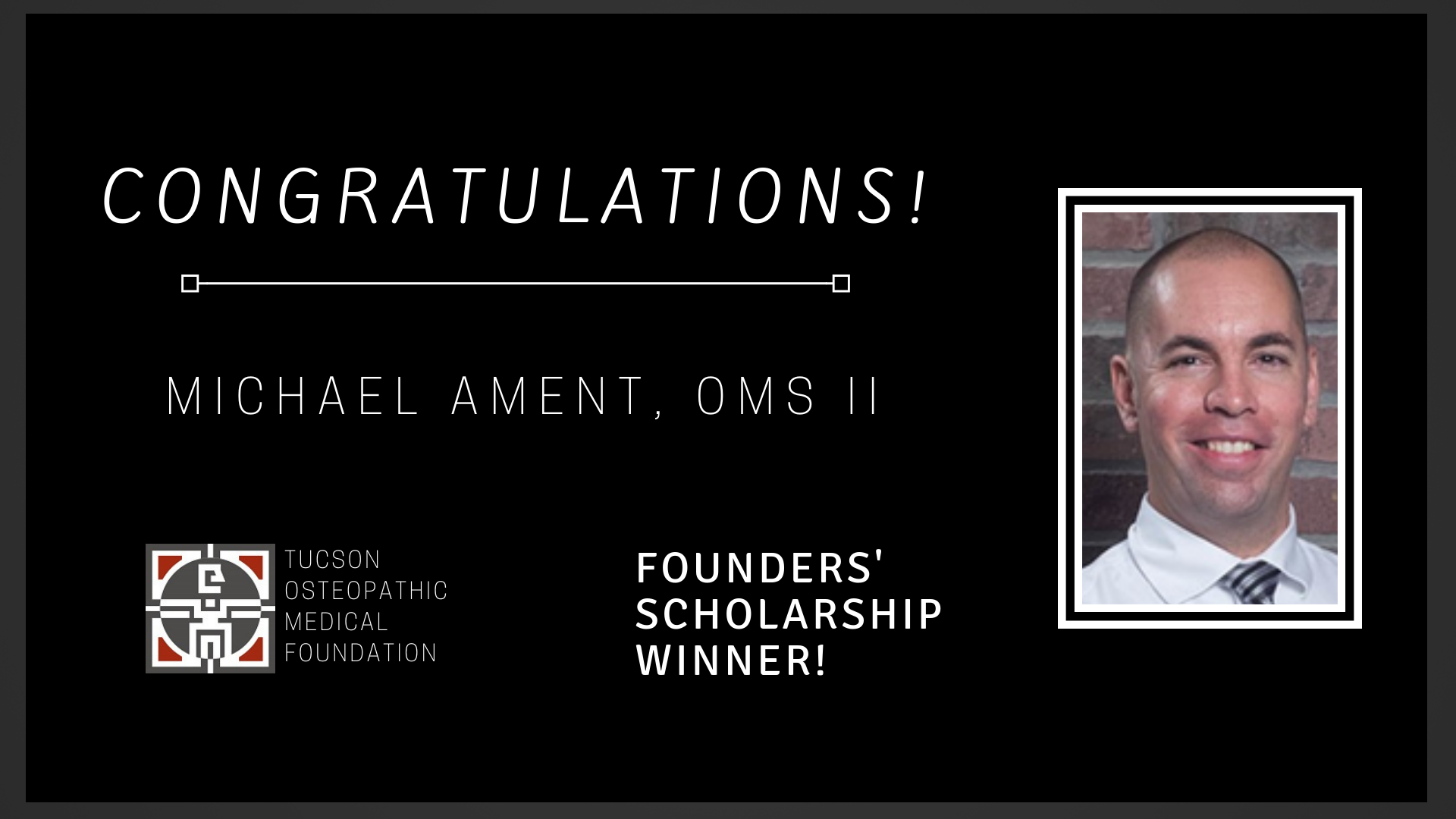 Michael Ament became interested in medicine when he was very young. When Michael started high school, he became fascinated with emergency medicine. He started an EMT course 3 days before graduating high school, then began to volunteer with the Whispering Pines Fire District in Payson, Arizona. This fire background lead him to joining the Arizona Air National Guard in Tucson, Arizona. Michael has served the ANG in Tucson as a firefighter/paramedic for 14 years. After completing basic training for the military, Michael received a full-time position as a firefighter/ EMT with the Superstition Fire and Medical District in Apache Junction, Arizona. While working in this position, he realized that he really enjoyed the medical side of the fire department the most. Michael put himself through paramedic school on his off days while working 56+ hours a week.

As a paramedic, Michael realized that practicing medicine is what he wanted to do in life. Michael worked on completing his bachelor's degree and taking pre-requisite courses for medical school. In 2016, just four months after his twins were born, Michael was deployed to the Middle East. He wanted to be competitive for the next school year, so while working 84 hours a week as a firefighter/paramedic in the Middle East he studied for the MCAT. The military then flew him to Qatar where he was able to take the MCAT. Michael then returned to his deployed location and filled out applications for the medical schools he dreamed of attending.

Where do you consider home to be?
Arizona is home! I was born in Mesa, AZ and have lived in Arizona my entire life (prior to moving for my 2nd year of medical school). I have lived throughout the south east valley including Phoenix, Chandler, Gilbert, Queen Creek, and Pinal County. Tucson also has a soft spot in my heart. I have been a member of the Air National Guard at the 162nd Wing attached to Tucson International Airport since 2004.

What do you love about Arizona?
The thing I love most about Arizona is the people. I have some wonderful family, friends, professors, military leaders, and mentors from Arizona.
What is your favorite thing to do in your (very limited!) free time?
Well, I am in medical school and have 3-year-old twins, so I don't have much free time at all! However, my favorite thing to do is spend time with my wife and kids or take my wife out for a date night when we have the opportunity.
How did you discover you wanted a career in medicine?
I have been interested in medicine since I was a young child. However, after working for the fire department as a firefighter/EMT and progressing to firefighter/paramedic, I realized just how interested in medicine I really was. After becoming a paramedic, I decided to start pursing the possibility of medical school. While in the process of taking the pre-requisites for medical school, our twins were born. They were born very early and required extensive medical attention. Watching these doctors care for my children solidified my decision to pursue medical school. I want to be able to care for others as those doctors cared for my family.
Who has been the most influential person in your life throughout your journey as a medical student?
My wife, Katie Ament has been the most influential person in my life throughout my journey as a medical student. She has always been there to encourage me and helped me realize that medical school was a possibility to begin with. Now, she is my rock and my partner, together we navigate through medical school on the road to becoming a physician.
Which specialty do you plan to practice?
I was a full-time firefighter/paramedic for 11 years and a firefighter/paramedic in the Air National Guard for 14 years, so emergency medicine is currently my top choice specialty. However, I am excited to learn about all of the specialties during 3rd and 4th year to see if there is something that interests me even more.
Tell us about a typical day in the life of a medical student.
I am currently a 2nd year medical student, so, a typical day for me starts at about 5:30 am, when I wake up and get ready. I then get my kids ready and take them to school around 7:30 am. Next, I start my academic day. Depending on the day, I either review lectures and self-study at home or attend in-person osteopathic principles or medical skills courses. Those will last until about 5:00 pm. One day a week I will work in the clinic from 8:00 am - 5:00 pm. After 5:00 pm I pick my kids up from their pre-school and we begin family time with dinner, kids' baths, and bedtime that is usually around 8:30 pm. Some days, after the kids go to bed, I study further and other days I get to have one-on-one time with my wife. On the weekends I try to reserve one full day for family time. On the second day I will most likely study for four to eight hours to prepare for an upcoming exam or board study. I am still an active member of the Air National Guard and serve one weekend a month and I also volunteer with our local fire department manning a fire truck for 12-24 hours per month.
What advice would you give to a student considering medicine as a career?
Medical school is worth it. It is amazing to see how physicians can make such a difference in the lives of their patients. Study hard, work hard, make a plan, and make it happen.
What is the most interesting thing you've discovered so far in your medical training?
I have seen that there are great disparities in healthcare resources throughout the country and even throughout individual communities. Luckily, there are non-profit groups trying to close the gaps. However, there is still a lot of work that needs to be done so that all members of the community can have access to high quality healthcare.

What excites you about becoming a physician?
I am excited to be the person that can offer medical solutions to others. As an emergency medicine physician, it will be an honor to have the opportunity to make a complete stranger's worst day a little bit better through compassionate and skilled medical care.
What led you to pursue osteopathic medicine as opposed to allopathic medicine?
As a member of the Air National Guard, I deployed to the Middle East in 2016. During that time, I worked as a firefighter/paramedic on the base and shadowed a physician in the base clinic on my days off. The physician happened to be a DO. He introduced me to osteopathic medicine and how osteopathic principles can be used as an additional tool in medicine. I feel that osteopathic medicine is a crucial tool to have in both military medicine and emergency medicine. I chose osteopathic medicine because I want to make sure that my patients have access to all of the tools in the "toolbox".
What do you think the future of medicine looks like?
I think that the future of medicine will continue to evolve into an inter-professional team-based approach to health care with the patient at the center. Patients need to be educated in their diagnosis and treatment options and be an active member in the decision-making process.