---
Rochelle Almario, OMS III at Burrell College of Osteopathic Medicine - BCOM, Awarded $7,500 Founders' Scholarship
March 4, 2020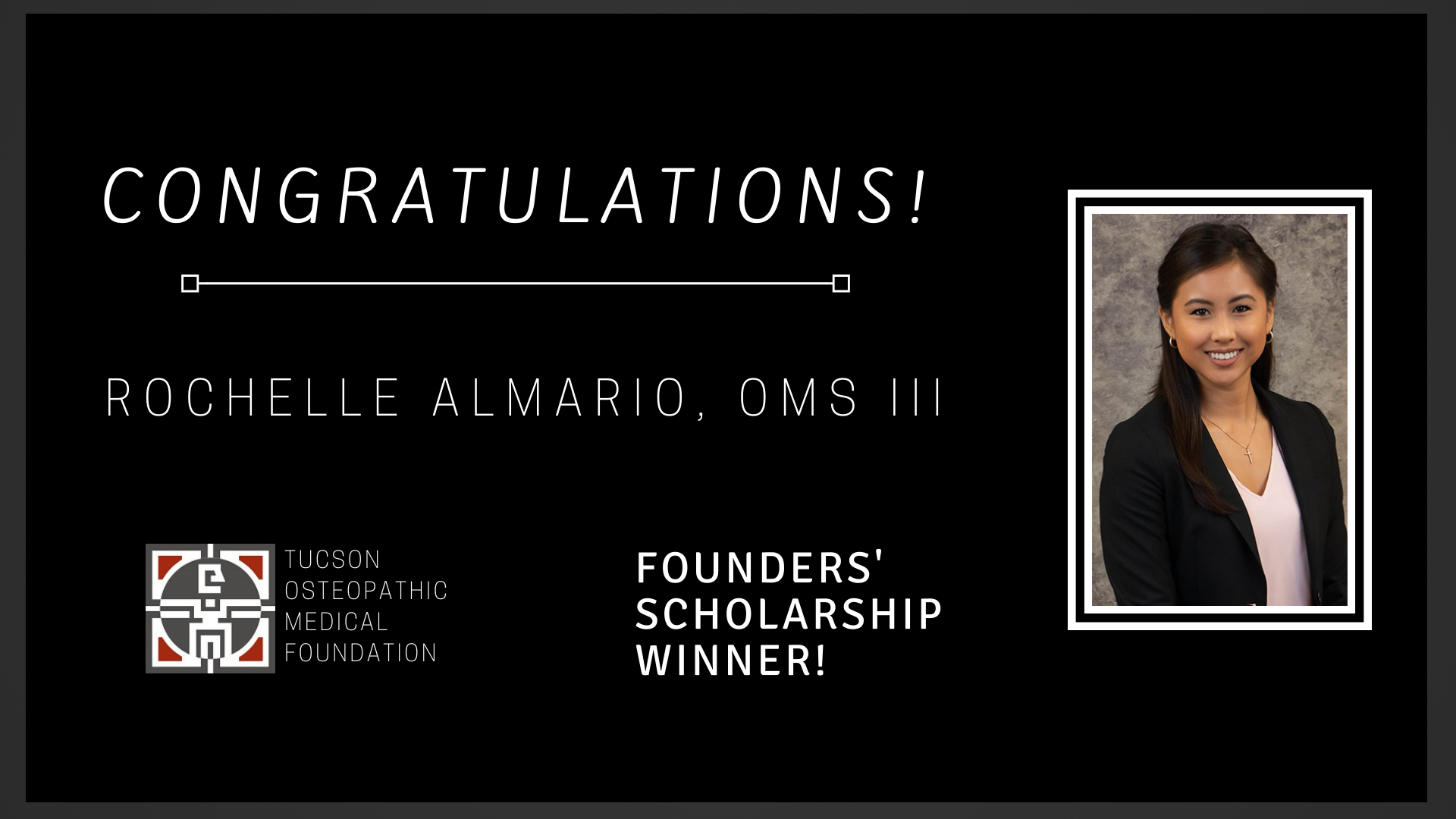 Rochelle Almario is a third year medical student at BCOM. At age 13, Rochelle and her family moved from Michigan to Tucson. In 2015, she graduated from the University of Arizona with a BS in Physiology, Cum Laude, and minor in Spanish.
During college, Rochelle regularly volunteered with the university's Mobile Health program whose mission was to provide quality healthcare to the underserved population in Tucson. Rochelle's experiences with Mobile Health helped her realize her underlying desire to utilize her skills for the benefit of the community. This aspiration of hers remained with Rochelle through medical school as she gained membership into Sigma Sigma Phi, an Honors Fraternity whose goal is to maintain high scholastic excellence and devotion to community service. Rochelle sat on the executive board for the fraternity as Community Service Coordinator. This allowed her to oversee projects as well as participate in several events at the soup kitchen, animal shelter, and local parks for clean-up.
Rochelle became more involved with the Las Cruces community during her time mentoring a local elementary school student for two years. Medical school has also given Rochelle the opportunity to hold a teaching position as one of the Musculoskeletal System block tutors. While tutoring, she was able to create lasting relationships with classmates while upholding a team-based learning environment. Overall, Rochelle takes pride in integrating into both the Tucson and Las Cruces communities while achieving 1st quartile rank in her class during the rigors of medical school.
Where do you consider home to be?
Home for me is here in Tucson, AZ.
What do you love about Arizona?
I love the weather and how almost every day is warm and sunny. There's really nothing like an Arizona sunset.
What is your favorite thing to do in your (very limited!) free time?
I enjoy spending time with my family and also love a good weightlifting session in the gym.
How did you discover you wanted a career in medicine?
I've wanted to be a doctor since I was little, but volunteering at a Mobile Health clinic during undergrad is what really solidified my career choice. I admired the impact physicians had on their patient's lives. I wanted the responsibility and leadership role that physicians have in patient care.
Who has been the most influential person in your life throughout your journey as a medical student?
Drs. Lacey and Arun Rao have been my mentors since undergrad when I was a pre-med student. They embody the kind of physician I want to be - compassionate, brilliant, and family oriented. I used to scribe for them during my gap year, and they helped me get to where I am today. They definitely fostered my interest in medicine and have been steady supporters throughout this whole process. It's been neat learning from them as a pre-med, scribe, and now medical student as I complete my clerkships.
Which specialty do you plan to practice?
I plan to become an Anesthesiologist.
Tell us about a typical day in the life of a medical student.
It really depends on which rotation I'm on. In a surgical rotation, I would be in clinic seeing patients from 8 am - 12 pm. Then, I'd head to the hospital for surgeries scheduled until about 5pm or 6pm. If we were on call, it would be possible that I'd stay at the hospital until 10 pm seeing consults and doing surgery. Right now, during my Pediatric rotation, I am in clinic from 8 am-5 pm. When I get home, I have dinner then study until I go to bed. If I'm feeling super motivated, I'll try to squeeze in a gym session here and there.
What advice would you give to a student considering medicine as a career?
I'd tell them to make sure that medicine is really something they are passionate about. It's a long hard road that never seems to end, but it can be very rewarding if you do it for the right reasons. There isn't anything else quite like it.
What is the most interesting thing you've discovered so far in your medical training?
It's most interesting to me when information that I learned during the first 2 years of didactic training applies to real life scenarios. It proves that all the nitty-gritty facts we memorize are actually applicable in practicing medicine.
What excites you about becoming a physician?
In relation to Anesthesia, I'm excited to learn the breadth of knowledge that the field demands. I'm enthusiastic about performing procedures, as well as knowing the physiology behind them. Having the ability to make quick decisions on which medications to administer and seeing results in real-time seems so satisfying. It's really an honor to have the responsibility of keeping a patient alive and comfortable during a time that they're most vulnerable.
What led you to pursue osteopathic medicine as opposed to allopathic medicine?
I shadowed a DO when volunteering for the Mobile Health Clinic at the University of Arizona. We had a pregnant lady who was losing weight instead of gaining, and the physician asked if she had the means to pay for food to eat. Instead of looking for a physiologic etiology, she thought of the patient's social situation. She showed me the significance of evaluating the patient as a whole person instead of a list of symptoms.
What do you think the future of medicine looks like?
I think that larger corporations and hospital chains will be buying smaller groups and private practices. Physicians will become employees of big companies and have a smaller say in the business aspect of medicine.
Part of the TOMF mission is to provide high-quality Continuing Medical Education to medical professionals in Southern Arizona. We would like to know how you learn best so that we can provide effective and engaging CME to your generation of osteopathic physicians. Which of the following provides the best learning experience in your opinion?
I learn best seated at a desk listening to a live lecture.