---
Samuel Diaz, OMS III at Burrell College of Osteopathic Medicine Awarded $7,500 Founders' Scholarship
February 24, 2021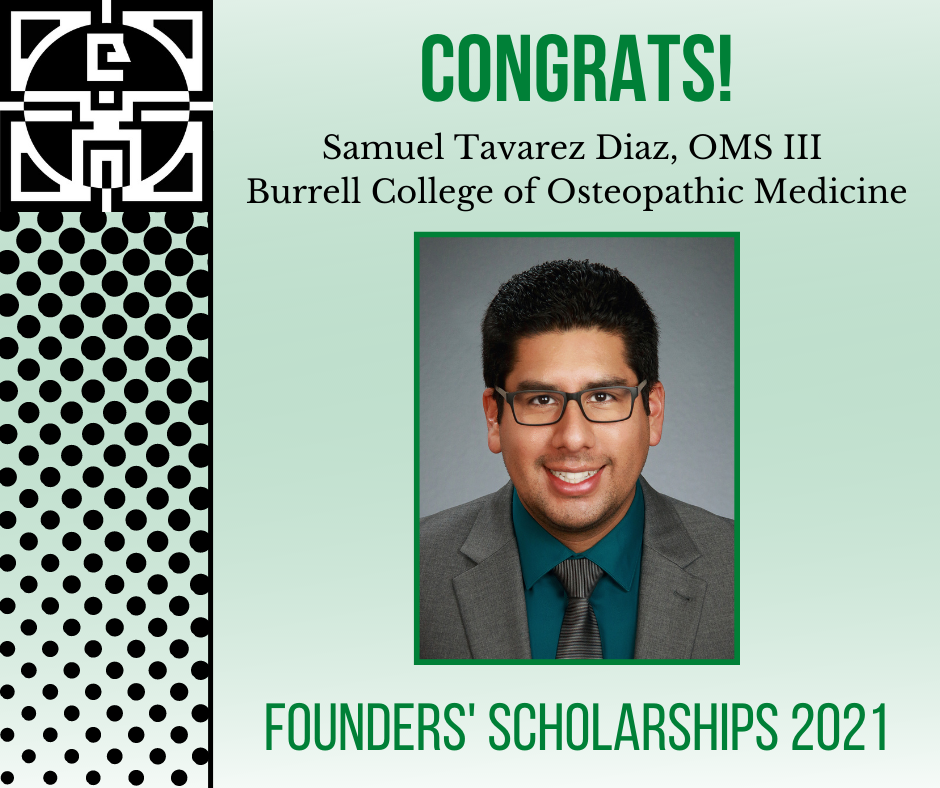 Student Doctor Diaz focused on sports and friends throughout high school and on work and survival during his undergraduate education. When he started taking the 'hard' classes, he felt like he was scrambling to keep up with work and school and was not able to truly focus on learning. After graduating with his bachelor's degree he began to focus on work. Samuel has always known the value of hard work, and this showed in his professional accomplishment of being promoted from a patient care technician to Materials Manager of several pain management facilities within one year. During this time, he took prerequisites for medical school and began to believe that he was capable of more than he had previously thought. Samuel worked full-time for several years before taking a chance on a new post-baccalaureate program through Burrell College of Osteopathic Medicine. It was then that he focused on his studies and obtained the GPA necessary to be accepted into their medical program.

During his first year as a medical student he obtained honors in ten academic blocks and by the end of second year, was in the top quartile of his class. Student Doctor Diaz is a professional member of SNMA and Sigma Sigma Phi (SSP) and was an executive treasurer for SSP in his second year. In his third year he is balancing clinical rotations with study time for shelf and board exams, as well as volunteering all the while enjoying being back in his home state of beautiful and sunny Arizona.
Where do you consider home to be?
Sunny Phoenix, Arizona
What do you love about the Southwest?
I love that it is sunny 364/365 days of the year and the sunsets are amazing.

What is your favorite thing to do in your (very limited!) free time?
I love taking my mountain bike out on the trails and shredding down the mountains.

How did you discover you wanted a career in medicine?
I was exposed to medicine at a young age through my father and my oldest sister. The shift toward pursuing medicine as a career happened when I was working as a patient care tech at a surgery center in Scottsdale. I really enjoyed talking and taking care of the patients and developing relationships with them.
Who has been the most influential person throughout your journey as a medical student?
That would have to be my wife. Without her love and support, I am not sure I would have made it this far.
Which specialty do you plan to practice?
My top 2 choices right now are Internal Medicine or Emergency Medicine.
What advice would you give to someone considering medicine as a career?
I would tell them it is one of the hardest fields to get into and that there will be many sacrifices and late nights. I would also say that if medicine is what they truly desire as a career then do not let anything deter them, because although it has been difficult and exhausting, it has also been extremely rewarding.
What is the most interesting thing you've discovered so far in your medical training?
I find it extremely interesting how connecting with patients affects the overall outcome of treatment, especially in primary care. You can be the best, smartest physician out there but if you do not have a connection with your patient, it will be very difficult to treat them effectively. I love the dynamic of the patient-physician relationship.
What excites you about becoming a physician?
Being able to talk to my patients and understand where they are coming from, what they are dealing with and helping them understand how their body works. Medicine is a team effort, and I am excited to team up with my patients for their overall wellbeing.
What led you to pursue osteopathic medicine as opposed to allopathic medicine?
My first exposure to medicine was through my father who is a naturopath. Growing up with him, I was exposed to many alternative medicine treatments to combat sickness. As I grew older, I relied more on traditional medicine from physicians. I came to realize that both naturopathic and allopathic medicine had gaps that I felt needed to be filled. I feel like osteopathic medicine bridges those gaps as much as possible. We start with looking at the body as a whole, but also use evidence-based practices in our treatment plans.
What do you think the future of medicine looks like?
This is a great question, especially under the current circumstances. Medicine is constantly changing and evolving, as it should be. Technology is helping us better understand disease processes that we could not before. The future of medicine to me looks promising if we continue to push for education, innovation and communication.
How has COVID-19 impacted your training?
In school, we spend a lot of time learning about microbiology and learning about all these different organisms. Being a student in a pandemic has been interesting to say the least. It has really brought to light why studying these viruses and why understanding them is crucial in being able to combat them and the diseases they cause. It has made me really appreciate the process of learning and applying that knowledge to real life situations and my patients. It has created a different environment for learning - forced a separation of sorts from my peers and fellow students but also encouraged more independent study and learning. It has challenged my technological strengths and weaknesses in a way that I believe will prepare me for a future where telehealth medicine becomes more mainstream.