---
Spencer Eberhard, OMS III at A.T. Still University - SOMA, Awarded $2,500 Founders' Scholarship
February 23, 2018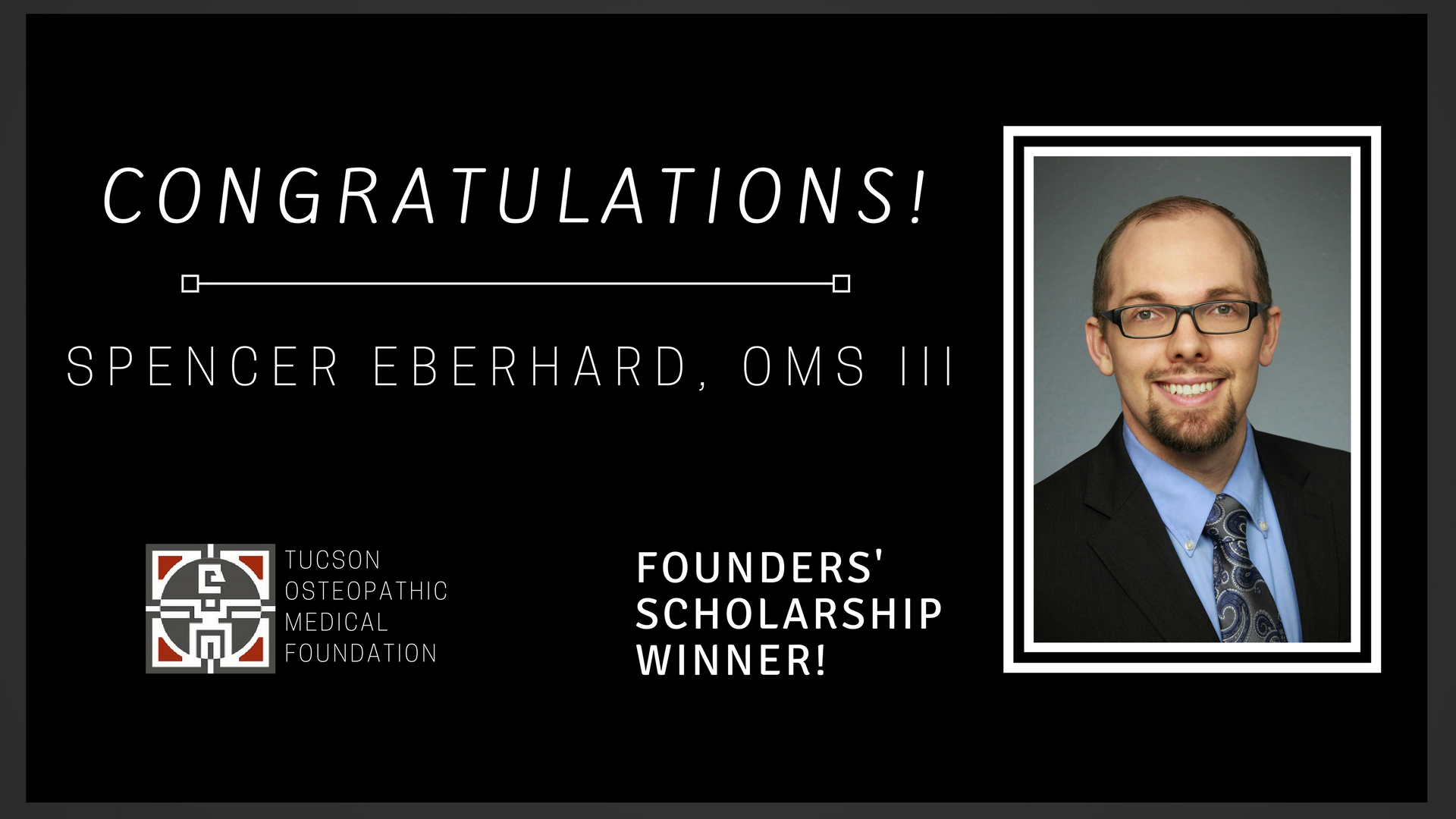 In 2013, Spencer Eberhard graduated from BYU-Idaho with a B.S. in Biology - Neuroscience. During his undergraduate years he was a chemistry tutor, and a neurobiology and neuroanatomy teacher's assistant. As a neuroscience research Team Leader for a project examining neurogenesis in crayfish, he guided and taught students how to conduct the research, which led to their poster presentation winning 2nd place at a BYU-Idaho conference. Eberhard has been a dedicated musician for most of his life and was the Music Club President as a 1st year OMS at A.T. Still University - SOMA and is now an OMS III. Read on to find out more about how his love of neuroscience led to his pursuit of becoming an osteopathic physician.
Where do you consider home to be?
Arizona. My wife and I have lived in Utah most of our lives, but we love Arizona and want to call it home for the rest of our lives.
What do you love about Arizona?
No snow! We also love the people, the desert landscaping and wildlife, and family close by.

What is your favorite thing to do in your (very limited!) free time?
Spend time with my wife, who is my best friend! We like to play piano and violin, play games, read books, watch movies, go to the gym, and go out to eat.
How did you discover you wanted a career in medicine?
Long story. However, the quick answer would be a combination of personal struggles, struggles of family and friends, a deep love of neuroscience, and a desire provide holistic care to others.
Who has been the most influential person in your life throughout your journey as a medical student?
My wife. With her support I've been able to dedicate myself to studies as well as live a low-stress life.
Tell us about a typical day in the life of a medical student.
OMS1 & 2: Wake up, breakfast, study, exercise, lunch, study, nap, dinner, study, one hour of free time (spend time with wife), then sleep. Typically class/study time is about 60-70 hours per week.
OMS3: Wake up, exercise, eat, clinic, lunch, clinic, late dinner, study, free time, then sleep.
What advice would you give to a student considering medicine as a career?
First, you have to consider what part of medicine you want to participate in and how dedicated you are to achieving that goal. If you want to become a physician, I would suggest focusing on two principles to consider: 1) Do you see yourself as a knowledgeable leader who serves others with compassion and confidence? 2) Do you see yourself as a lifelong learner? If the answers to these questions are yes, I would tell you that the path of becoming a physician is difficult but worth it and to never give up.
What is the most interesting thing you've discovered so far in your medical training?
My ability to bring relief, comfort, and hope into people's lives who are struggling.

What excites you about becoming a physician?
Helping others find hope, relief, and happiness. Being in a field of endless learning. Being a leader with influence to change things for the better.
What led you to pursue osteopathic medicine as opposed to allopathic medicine?
When I was a sophomore in undergraduate school, I approached the biology faculty advisor and expressed my desire to be in a field of medicine where I could influence change with a more holistic approach. One of the options he shared with me was osteopathic medicine, which was something I never heard of. Learning about the osteopathic philosophy and tenets actually led to my decision to become a physician. The tenets speak truth to my soul as if I've always known them. A.T. Still was truly an inspired man!
What do you think the future of medicine looks like?
I am a man that likes to keep hope in the picture. I hope to see a day where physicians are still respected leaders throughout healthcare. I hope to see a day when many health care specialists collaborate together on behalf of the patients to bring about holistic and integrative care. I hope to see a day when healthcare is accessible to all, and also balancing the responsibility placed on both health care professionals and patients. I hope to see days of exciting new revelations in research that can potentially prevent and cure disease and improve each patient's quality of life.