---
Tiffany Ziegler, OMS II at Midwestern University – AZCOM, Awarded $5,000 Founders' Scholarship
February 24, 2018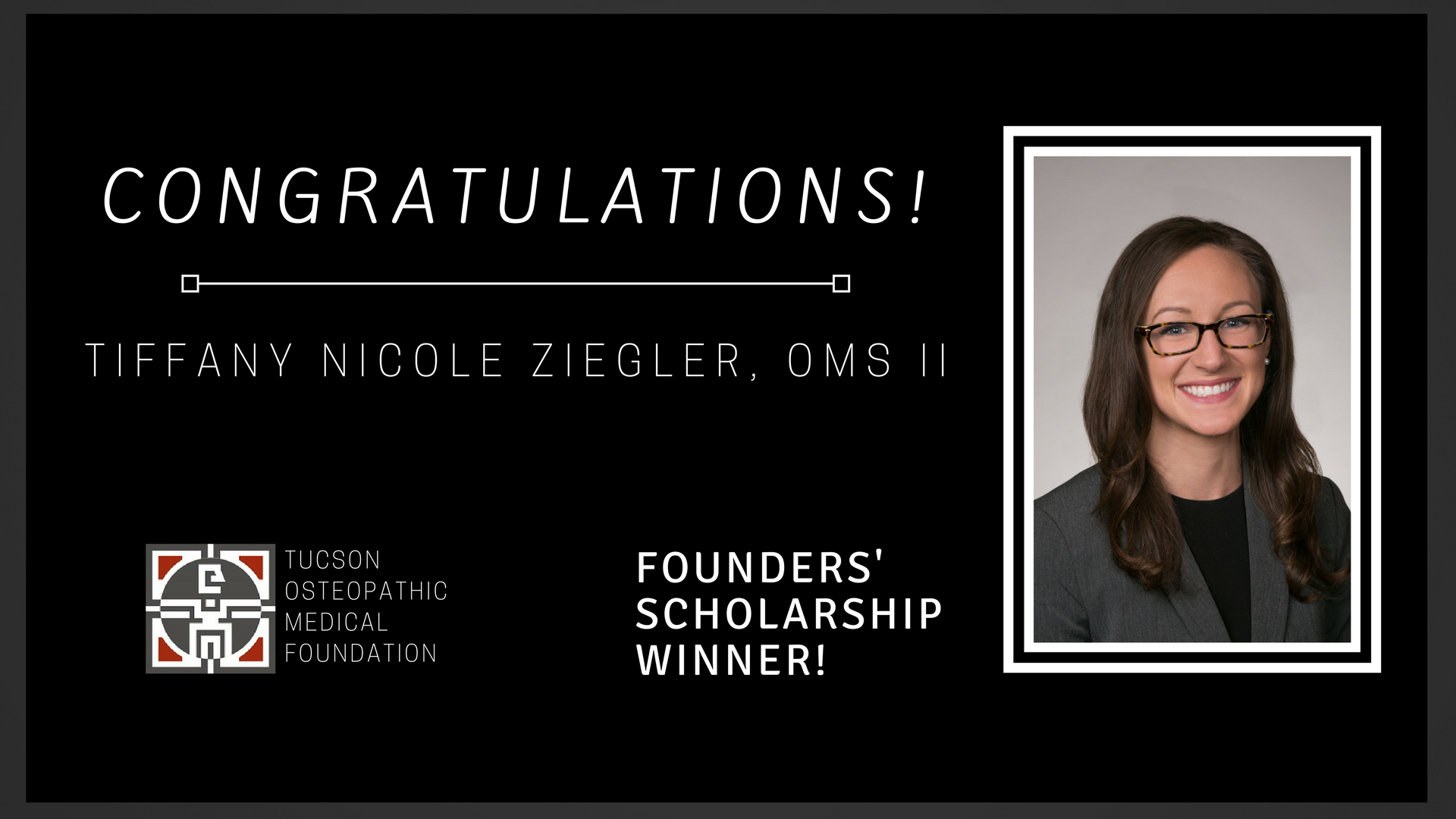 Tiffany Ziegler has acquired several roles in her tenure as a student. As an academic, she was a member of the Phi Theta Kappa undergraduate honor society, she was awarded the title of Outstanding Graduate Student upon completion of her Master's degree, and has earned placement in the top half of her medical school class. As a researcher, she is working with Midwestern University - AZCOM, HonorHealth system, and the Scottsdale Fire Department to improve patient outcomes in cardiac arrest and sepsis calls. She is also working with Arizona State University's School for the Science of Health Care Delivery and the University of Arizona Cancer Center - St. Joseph's Hospital and Medical Center to study the social determinants of health outcomes in Arizona. As a student leader, she started as the Class of 2020 Class Representative in her first year, and is now serving as the Midwestern University - AZCOM Student Government President as an OMS II. She is also a General Council Member of the National Council of Osteopathic Student Government Presidents and serves on the following committees: Legislative Affairs, Women in Medicine, National Osteopathic Student Caucus Task Force, and Resolution Task Force. Read on to find out what influenced Tiffany Ziegler's decision to pursue a career in the medical field.
Where do you consider home to be?
I consider my hometown to be my home - Phoenix, AZ
What do you love about Arizona?
My favorite parts of Arizona are its variety and accessibility, particularly in outdoor activities. Within the city or a couple of hours in any direction you can find hiking, biking, snow and water-skiing, rock climbing - anything an outdoor enthusiast could ask for.
What is your favorite thing to do in your (very limited!) free time?
My primary hobby outside of school is Crossfit. I started about 6 years ago having never been an athlete and essentially having never exercised before in my life, and I fell in love with the challenge. I get bored with exercise for the sake of exercise, and Crossfit offers the opportunity to try something new every day, as well constant challenges to learn more complex barbell and gymnastics movements in addition to more "ordinary" and accessible forms of exercise.
How did you discover you wanted a career in medicine?
I was a senior in college and was taking an advanced course in Disorders of Sexual Development as a part of my Biological Psychology degree. Although I was a psychology major, I didn't want to become a counselor or psychologist and was at loss for what my direction in life would be after graduation. I experienced a trauma during my early undergrad years that left me certain I wanted a career where I could make a difference for people with similar experiences to mine, but I didn't know what that looked like yet.
Through a series of happy accidents I ended up being invited to sit in on Phoenix Children's Hospital's Reproductive Anomaly Clinic's meetings which included a diverse board of physicians and psychologists, including surgeons, endocrinologists, and many other specialists. After several months of that exposure I realized how exciting I found the medical aspects of what I was learning through the committee, and more importantly I saw the impact I could make in the lives of people experiencing a traumatic event.
Who has been the most influential person in your life throughout your journey as a medical student?
My parents have been my biggest influences in my journey to becoming a medical student and throughout medical school thus far, and for a long time they were the only people who believed I could do it. My mom has always taught me that things will fall into place as they are supposed to; with each failure throughout this journey, she always reminds me that it only means that a better opportunity for me is just around the corner. She hasn't been wrong yet!
Which specialty do you plan to practice?
I plan on becoming an Emergency Medicine physician.
Tell us about a typical day in the life of a medical student.
I try to incorporate the best version of "balance" that a medical student can achieve in my typical day-to-day life. I attend our regularly scheduled classes from 8:00 am until about 2:00 pm, and then a few days a week I'll go to the gym to give myself a mental break. After the gym, I'll go to the library and study for our upcoming exams until about 8:00 pm, at which point I'll go home for dinner. After dinner, it's a few more hours of studying until I go to bed to rest up and start the cycle over again!
What advice would you give to a student considering medicine as a career?
My best advice would be to take your time and trust your own process. Being a slightly older student, I've had the opportunity to learn a couple of great life lessons on my journey to getting into medical school. The most important lesson I would say, is that if you're going to make it through this process alive, your heart has to be 100% in it for the right reasons. I had the opportunity to try other fields and careers before going into medicine, and through those experiences I know beyond a shadow of a doubt that this is the right career for me. That makes the long and difficult days a little bit easier on me, since I know that at the end of all this there is nothing else I would rather be doing. I think unfortunately some students go into medicine due to others' expectations or for other wrong reasons, and that can be a major contributing factor to the mental health difficulties we see in so many medical students and health care professionals. A medical career is far too grueling and self-sacrificial to do it for any reason other than pure heart and passion.
What is the most interesting thing you've discovered so far in your medical training?
The most interesting thing I've learned in my medical training thus far is how expansive yet interconnected our human condition is, and how it plays into our health. We tend to learn every aspect of medicine separately; biochemistry, physiology, and anatomy to name a few, course by course and organ system by organ system. As a psychology major, I can't help but to put together the interplay between social factors, individual psychology, family dynamics, physical health conditions, mental health conditions, and so many other aspects of who we are as individuals and then seeing how they play out in our states of health. It's interesting to me because I think it presents so many opportunities to go out into our communities and make an impact in so many different ways.
What excites you about becoming a physician?
I am excited to become a physician because I think I'll bring a unique skill set and perspective into the care of my patients. I want to become an EM physician because it presents the opportunity to touch people's lives at a time that they're the most vulnerable. Many people think of that vulnerability in the acute sense when you think of the ER - a tragic accident, a heart attack, or another immediately life-threatening event. In addition to those times, I also think it's important to think of that same vulnerability in a more chronic sense - drug addiction, uncontrolled psychiatric conditions, and other situations that are difficult to handle. During a clinical workshop last year, I discussed with my proctor about how so many physicians resent the difficult patients that they see on a recurring basis in the ER, but his perspective really stuck with me: if you don't put the same heart and passion into helping those people as you do the cardiac arrest next door, you've done that patient and medicine as a field an incredible disservice. I think that's a mindset many physicians don't have, but need to learn, and it's one I am committed to maintain throughout my training and career.
What led you to pursue osteopathic medicine as opposed to allopathic medicine?
I chose to go to an osteopathic school versus an allopathic school because of my experience applying to both. As a non-traditional student who didn't know I wanted to be a physician until after I graduated with my Bachelor's degree, my application certainly had some holes in it that traditional admission officers don't appreciate. First, while my MCAT score and science GPA were up to par and reflected my effort and dedication in my post-baccalaureate years, my undergrad GPA was nothing special. Additionally, in my personal statement I wrote freely about the trauma I experienced and how it played into my desire to become a physician. I was shocked to receive feedback from some schools that my personal statement was "too personal." However, my response from DO schools was completely positive and appreciated my humanness and struggles in getting to where I am now. In the osteopathic community, I found an appreciation for growth through trials and failures, rather than an expectation for robotic perfection. I realized very quickly that this was the right community for me; a community that immediately embraced me for who I am and provides me endless opportunities - not despite my humanness, but because of it.
What do you think the future of medicine looks like?

I think the future of medicine will be a lot kinder to patients and physicians alike than it has been in the past. So much attention is being brought to mental health, abusive systems, sexual assault, racial disparities, and so many other issues that desperately need to be discussed, and I can see that my generation of future physicians is up for the challenge and engaged with those conversations. I think we'll be able to create a system of shared decision making, where the patient is able to be informed and share a hand in taking charge of their own health and medical decisions. In addition, I see physicians having more influence in the administrative side of medicine because frankly that's what needs to happen in order to provide what is best for our patients and ourselves. I hope that by the time my career is coming to a close, we see health care systems that take care of their doctors - that have humane working hours, and that have high expectations for performance but alleviated pressure and demands for perfection.